My Wedding in San Sebastian

San Sebastian is an enchanting, upscale town on the coastline of Spain's Basque country. This dreamy city is as well known for its picturesque scenery, as its world renowned gastronomy. If an exquisite and indulgent elopement is up your ally, this is an idyllic destination. Massages, Michelin star meals, and plenty of sparkling champagne, this is what my wedding day looked like in San Sebastian…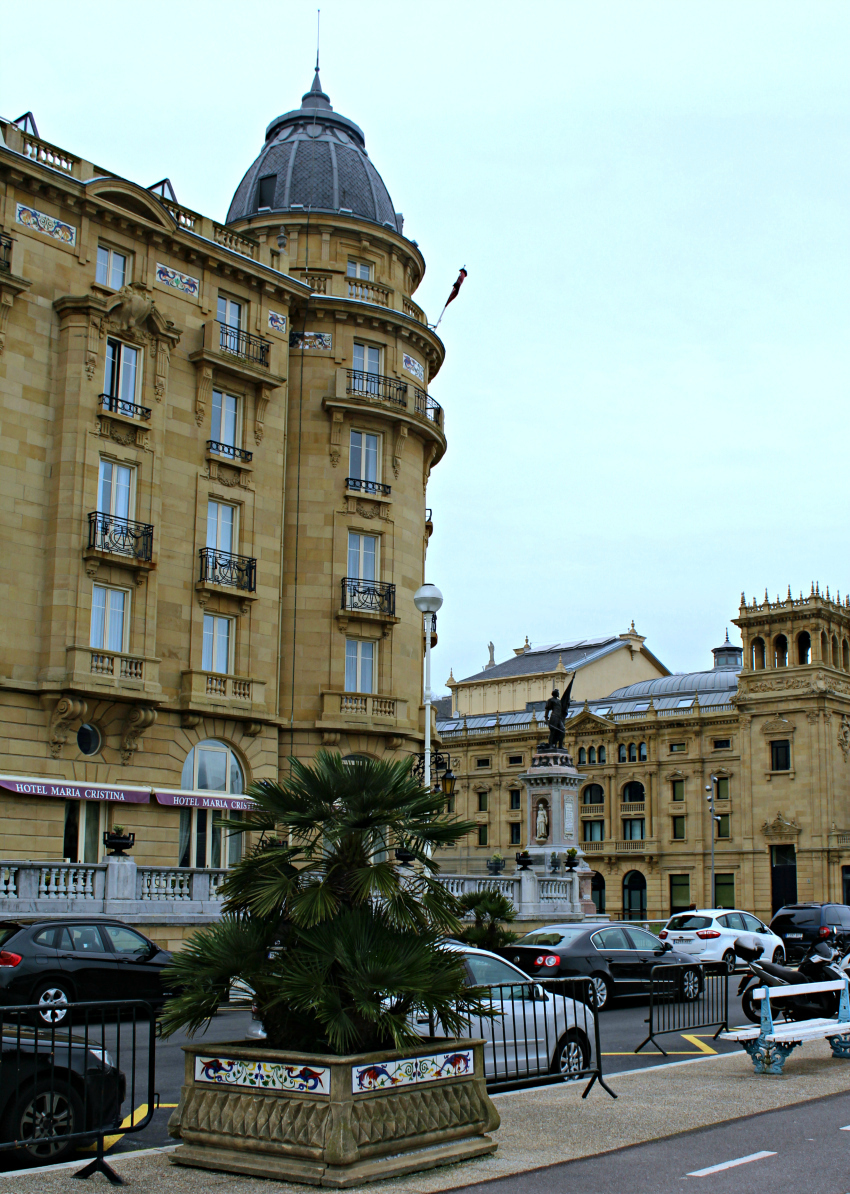 Breakfast: EASO at Hotel Maria Cristina
What more memorable way to start your wedding day than by enjoying a bountiful breakfast buffet at the grand Maria Cristina Hotel? Take in the outstanding views of the Urumea river and the famous Victoria Eugenia Theater with your sparkling mimosas. The breakfast selection here is unparalleled: freshly baked breads, eclairs, and fruit pastries, local cheeses and fruit, smoked salmon, and a wide variety of hot meats and breakfast dishes. At the time of this writing the breakfast buffet at EASO Restaurant cost €34.10 per person. Bonus: breakfast is served until 11:00 am, so sleep in a little and take your time enjoying it. An offsite and lighter option worth considering is Pasteleria Oiartzun, a picturesque bakery situated in old town. If you are traveling in the warmer months you're assured a perfect start to your day people watching with your fresh pastries and coffee outside of this charming café.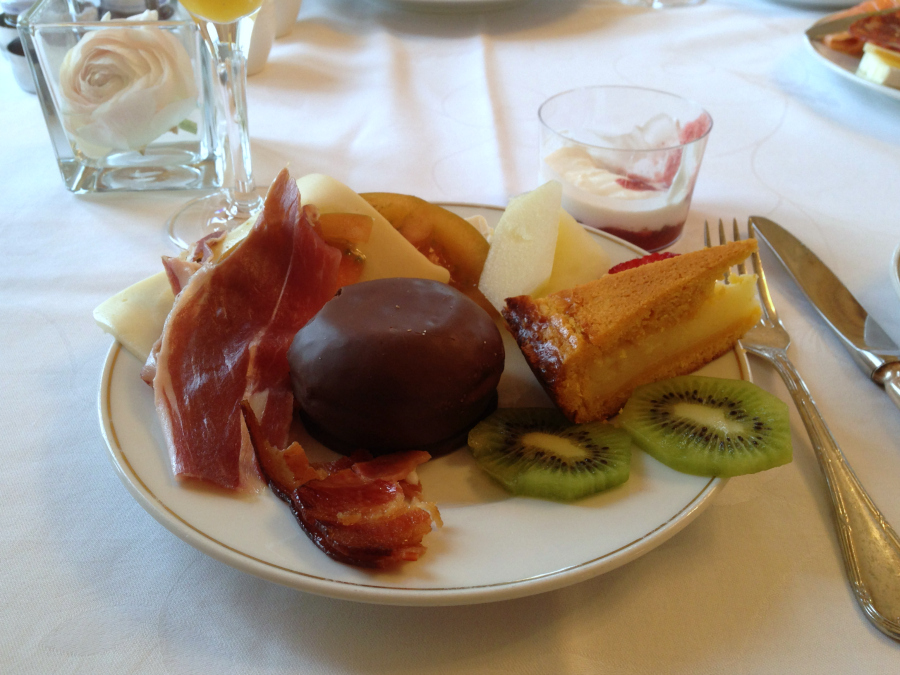 Outing: La Perla Spa
It's a short saunter from the Hotel Maria Cristina, or Pasteleria Oiartzun, down to the promenade that curves around La Concha beach. Enjoy a leisurely walk hand-in-hand, and relish the breathtaking views of the turquoise waters while you lean on the famous white wrought-iron railing. Head over to the Belle Époque era La Perla Spa to wash away any traces of everyday stress with two-hour his and hers thalassotherapy sessions. This wedding day worthy package includes invigorating body scrubs, seawater therapy baths and full body massages. Do yourself a favor and book your treatments ahead of time online.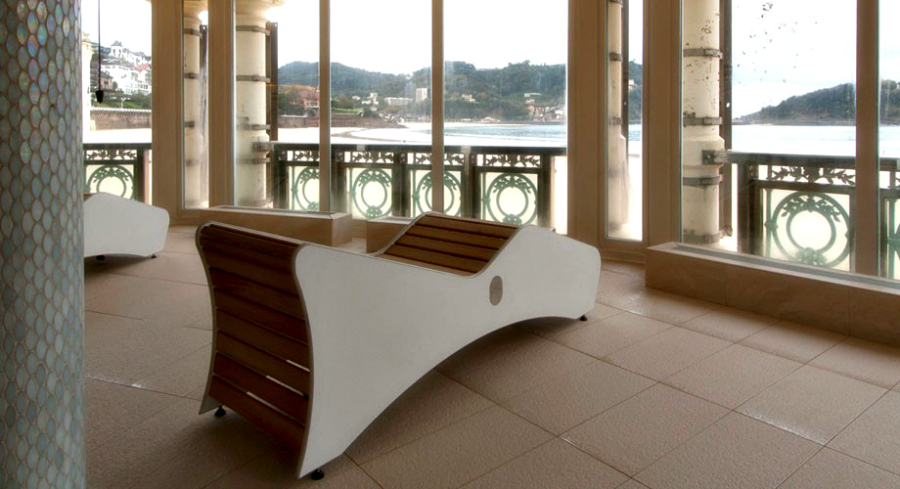 Lunch: La Perla Restaurant
Now that you're fully relaxed, why not make your meal a breeze too? Simply stroll upstairs after your massage, as La Perla also offers a fantastic view for lunch! Whether in the curved glass walls of the dining room or out on the airy terrace, reserve an ocean view table for two. Their weekday set menu is quite reasonable at €20 and includes an appetizer, a fresh seafood or meat dish, a delicious dessert, water and of course, wine. If ordering a la carte, try the grilled monkfish or sirloin with terrine of bacon and potatoes. No need to hurry here, so gaze out over the gorgeous Bay of Biscay and enjoy a leisurely lunch with your loved one.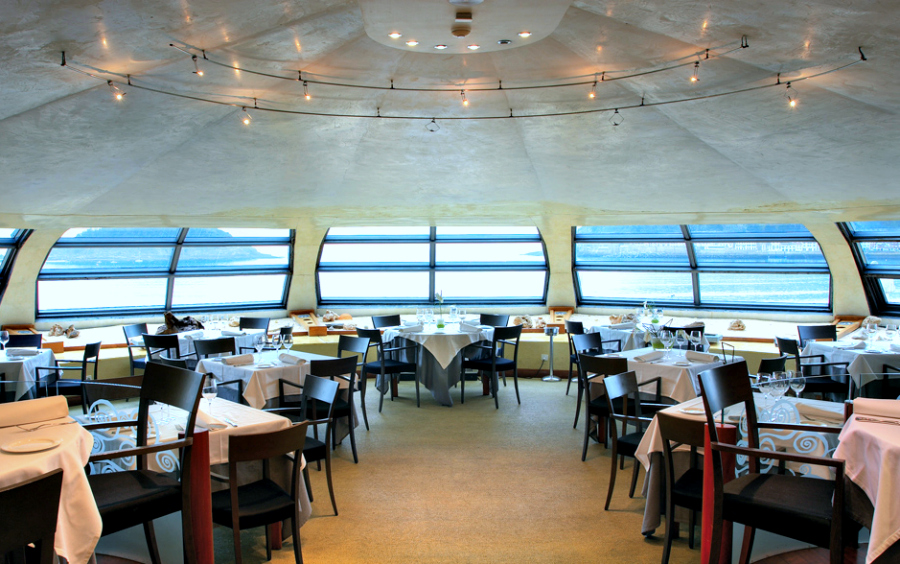 Dress: Melissa Sweet
An elopement in San Sebastian calls for an elegant, yet flight friendly (read easy to pack) wedding dress. I wore a short, cream, Melissa Sweet wedding dress with ruching and flower detailing that reminded me of Spain.  This dress fit easily into our wedding carry-on luggage and the ruching nicely disguised any potential wrinkles on the other side. It also fit easily in our budget since I purchased it pre-owned at my friend's bridal consignment store The Altar.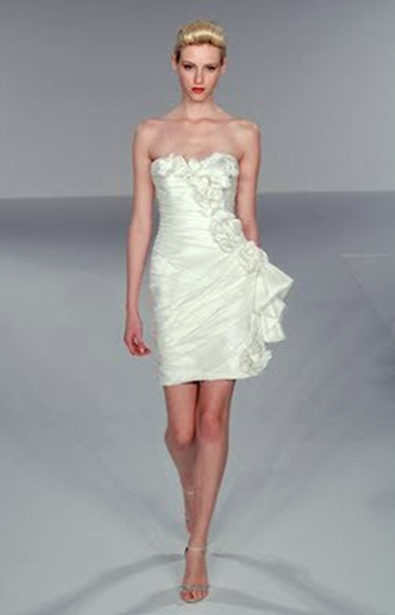 Accessory: Vintage Pave Bracelet
For my wedding in Spain, I opted for a hint of sparkle and a lot of story. I'm a big fan of antique and family jewelry so I chose a stunning art deco pave bracelet that had belonged to my grandmother. I wanted my wedding jewelry to be timeless, and it was even more special to incorporate some family history into my big day. If you don't already have an actual vintage piece of your own, don't fret. These classic statement bracelets can be found in many an antique store or in the secondhand section of a jewelry store. There are also a number of re-creations available for a reasonable price, including this Casablanca bracelet from Stella and Dot.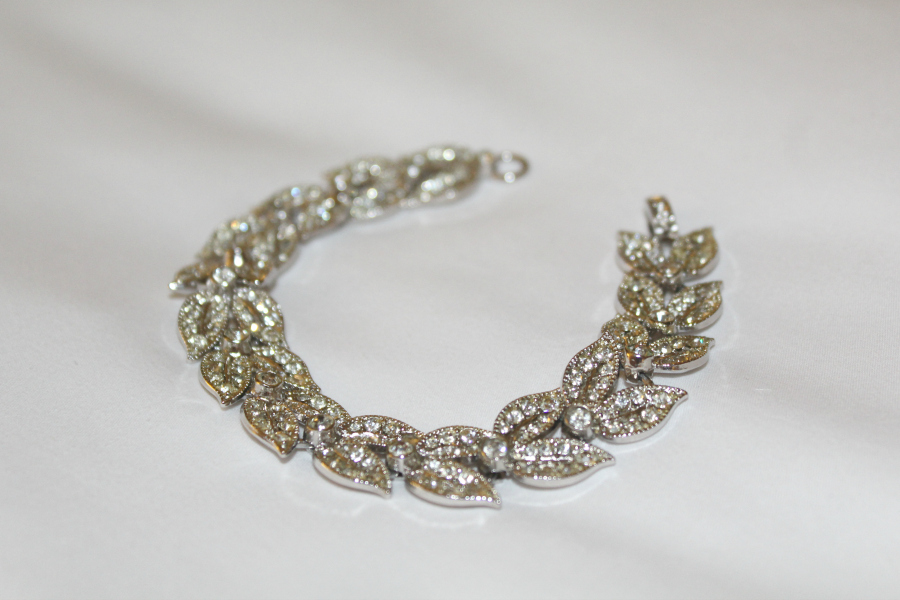 Flowers: Cream Gardenias and Blush Roses
For my elopement in San Sebastian I carried a small, fragrant bouquet of cream gardenias and blush roses. The combination was soft and feminine but equally sophisticated. Both of my grandmothers had gardenia bushes outside their Pasadena homes when I was growing up so this flower choice provided another sentimental touch to the day. The understated pink and champagne hues of the roses made for the perfect pairing.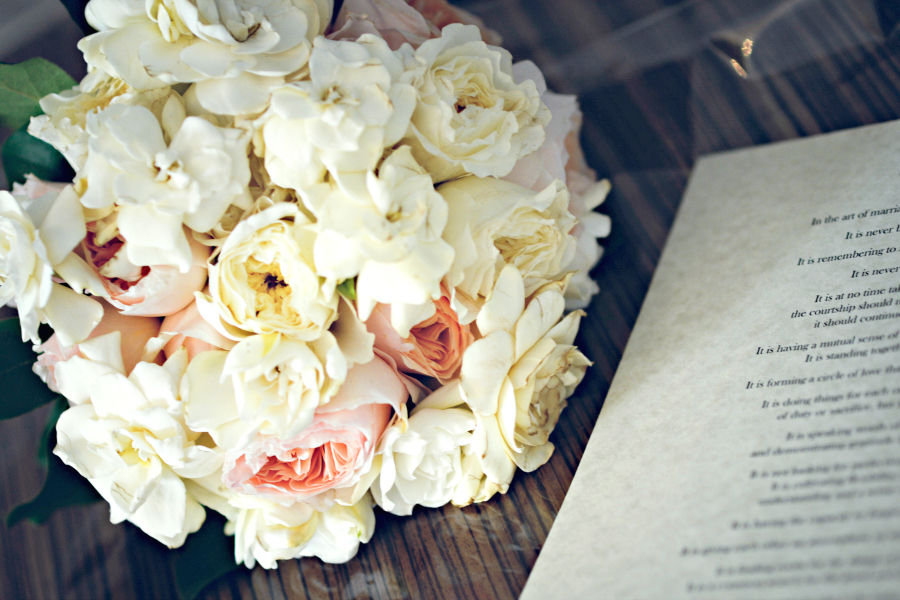 Ceremony Location: Terrace at Hotel Maria Cristina
For our wedding ceremony, we decided on the peaceful and private terrace of our suite at the Hotel Maria Cristina. With a stately rooftop location, enchanting river and city views, our terrace was a romantic refuge fit for a simple ceremony. Plus, the price was right! Our room was really a twofer since we didn't have to pay for a separate ceremony venue and already had a ritzy honeymoon suite. The terrace provided plenty of room for our Party of Five (us + wedding planner/officiant, photographer and his assistant), plus a small table for our flowers, rings and thirteen coins. The hotel is also ideally located right next to old town and the bay, making it easy to whisk from location to location for great wedding photographs afterward. For a free outdoor alternative consider carving out a corner in Parque de Aiete, a beautifully manicured public parkland. An exquisite backdrop for an elopement, here you'll find a peaceful pond, several waterfalls, amazing flora and fauna and a variety of colorful blooms.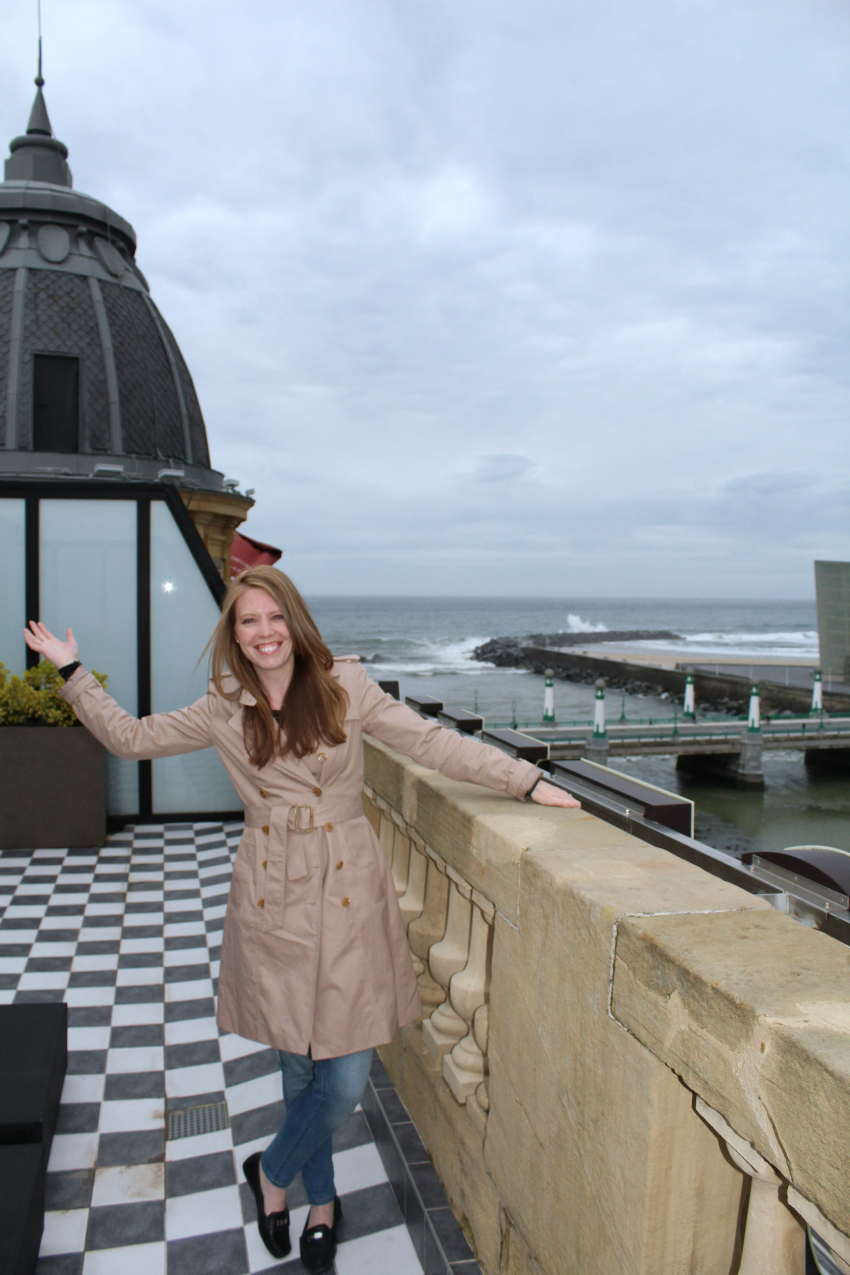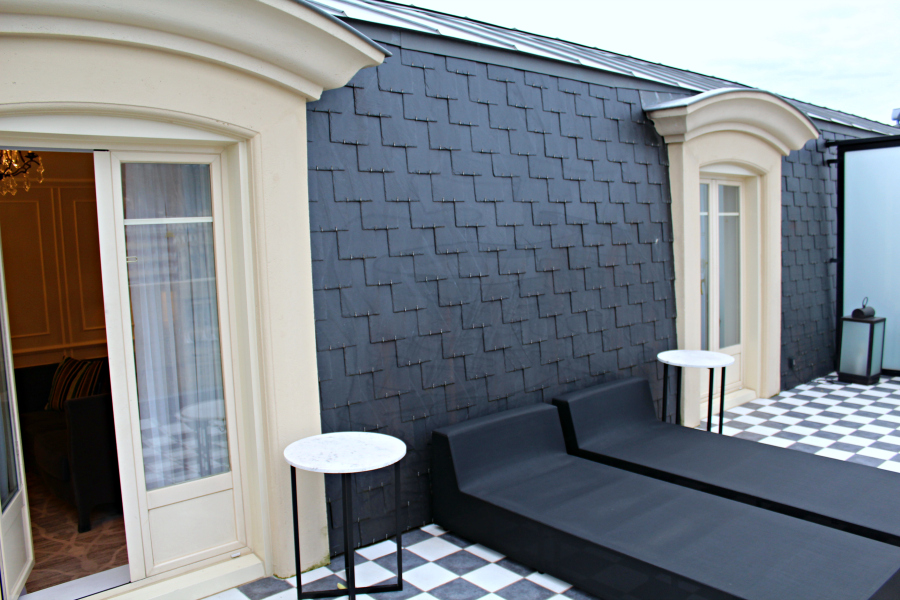 Soundtrack: In My Life, Classical Guitar Version
Silky and sultry, the sweet sounds of a Spanish guitar are synonymous with romance for a reason. I knew from the moment I started planning our wedding that I wanted to find a classical rendition of a meaningful song that we'd remember fondly forever. We considered hiring a local guitarist to play a few selected songs live, but ultimately opted to save the $200 and pack our iPod instead. If you're on a budget, I encourage you to consider the options at your local library. While I originally found our music (Christopher Dunn) on Amazon, I was surprised to discover that I could reserve his CD at my library and download it to our iTunes account…for FREE!
Toast: Traditional French Champagne
According to our wedding planner, Spain's popular Cava just won't do for a proper post wedding toast in San Sebastian. Since the city is situated in Basque country, a mere 12 miles from the French border, tried and true French Champagne is de rigueur for your wedding night. We opted for a sumptuous, sparkling Laurent-Perrier Brut from Champagne, France and were not disappointed. Cheers in Basque: Topa!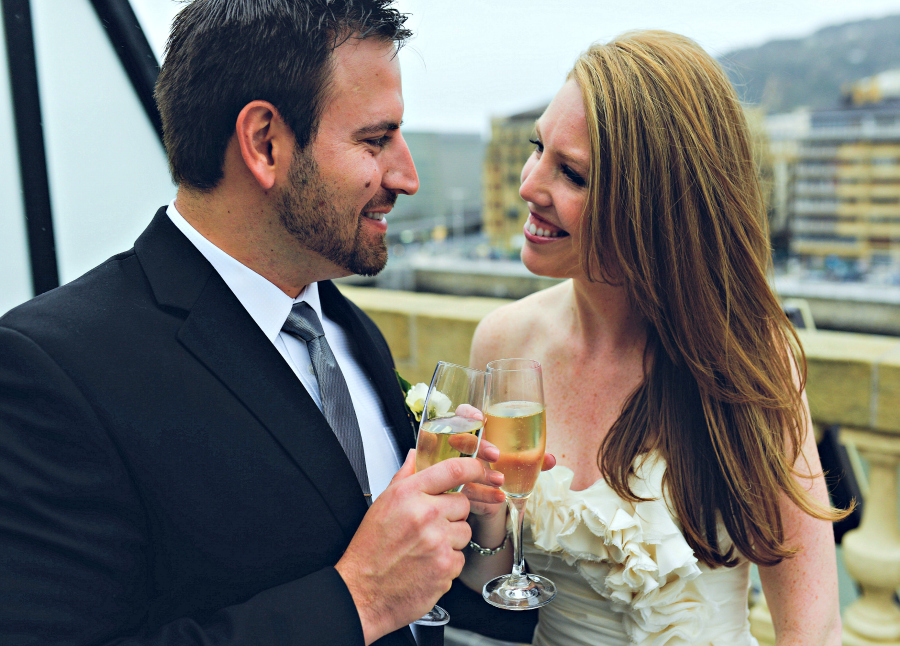 Wedding Photos: Carousel, La Concha Boardwalk, Queens Palace, Comb of the Winds
Our incredible and unique wedding photos are by far my most treasured trip souvenir (thnk you Oier Aso of Artefoto!). For our elopement, we toured around town with our planner and photographer (in the rain- no less) to get as many iconic San Sebastian shots as possible. Here are my four favorite spots for amazing photos: In front of (and if you're really lucky- on) the classic promenade Carousel. The operator was extremely gracious and shut the ride down for a few moments so we could do this. Along the iconic boardwalk and white railing of La Concha Beach. On the historic manicured grounds of the Queens Palace (Miramar Palace). In front of the crashing waves of the Comb of the Winds, locally known as Peine Del Viento (a great last stop since the wind may do a number on your hair- you've been warned).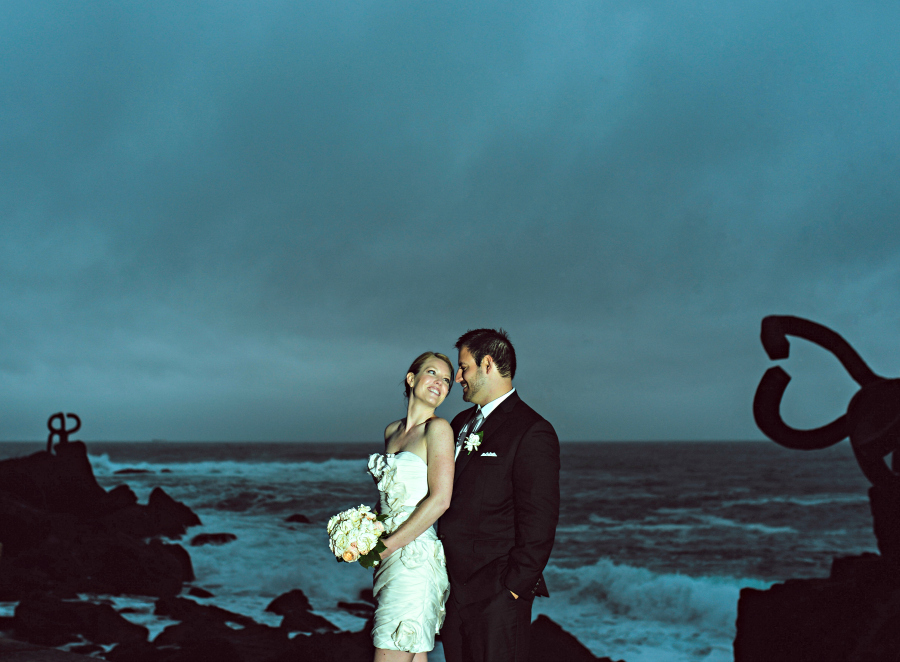 If you want to see more of my wedding photos check out We Eloped! Enchanting Elopement in San Sebastian
Dinner: Kokoxta
San Sebastian regularly tops lists of the world's best places to eat, so no trip to here would be complete without at least one epicurean indulgence. Dominating the market in Michelin stars, you can have your pick of one of the nine restaurants with top honors for 2016: Arzak, Akelare, Martín Berasategui, Mugaritz, Mirador de Ulía, Zuberoa, Elkano, Alameda, or Kokotxa. We chose the contemporary international cuisine of Kokotxa for its central location in the city's old quarter and proximity to our hotel. The restaurant is a stone's throw away from the Basilica of Saint Mary of the Chorus church and the dining room was perfectly intimate, seating only about 50 guests per evening. 

Kokotxa is also a relative bargain with a gourmet nine-course tasting menu in the €80 range, compared to three-star Arzak where you can expect to pay an additional €100 per person. Our reservation here was also a dream come true because it's actually open on Tuesdays (the day we wed) when many dining establishments in town are closed. Our elopement celebration dinner at Kokotxa was topped off very fittingly with an unforgettable "Passion Pie" (think dark chocolate, almond and orange cream), what better night to enjoy a meal you'll remember for the rest of your life. Wherever your heart (or stomach) takes you in San Sebastian, just be sure to make a reservation well in advance of your big day. Due to the uptick in foodie tourism here, most of the fine dining establishments mentioned accept reservations online over a month in advance.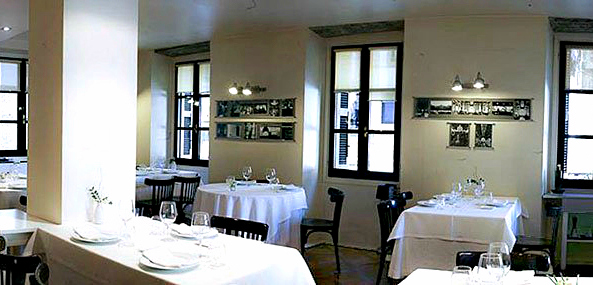 Honeymoon Suite: Hotel Maria Cristina
If you are up for a splurge (and why not… after all this is your wedding night) it doesn't get any better than the 5-Star Maria Cristina Hotel. Year after year, this is the top rated hotel in an already exclusive resort town, and it's hands down the swankiest place we've ever stayed. For our special occasion, we booked the Luxury Romance Package and highly recommend this addition of celebratory champagne, a fresh bouquet of flowers, and breakfast in bed for two. Having earned SPG Platinum status before our trip, we were handsomely upgraded to an incredible terrace suite overlooking the Urumea River with two sets of double doors leading outside and a lavish separate living room.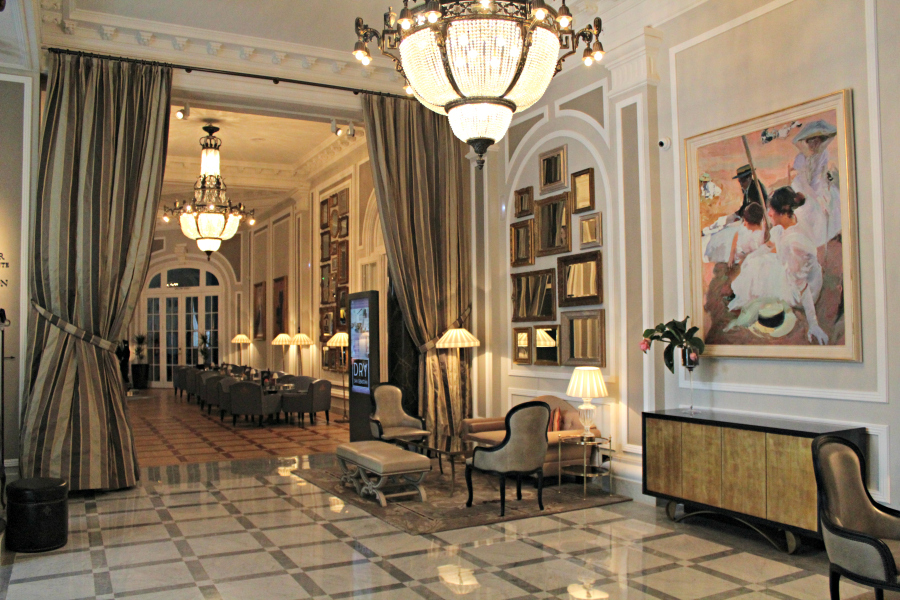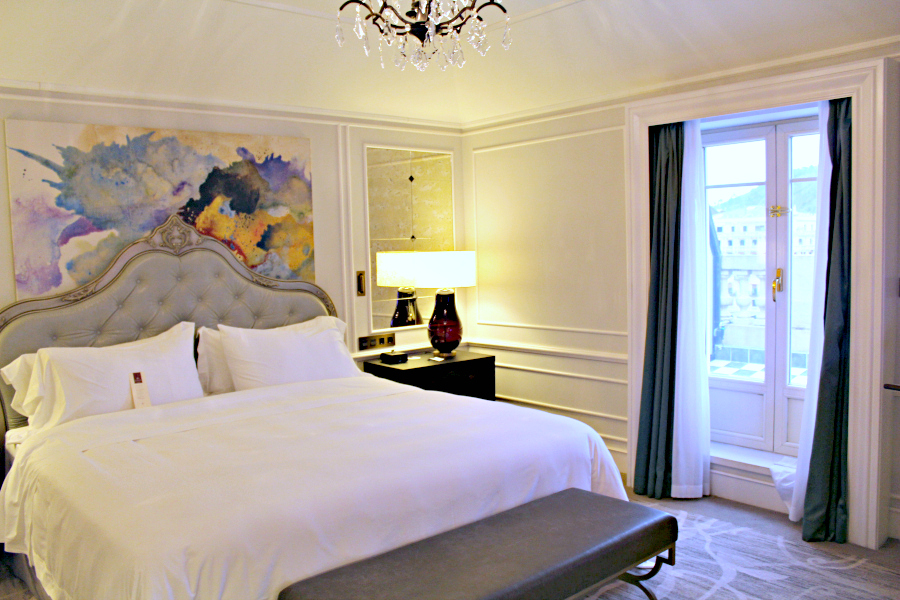 The hotel is stunningly appointed, originally built in 1912 for King Alfonso XIII and renovated in 2012. It attracts celebrities from around the world each fall for San Sebastian's International Film Festival. The hotel is also ideally located, only a quick walk to the old quarter (Parte Vieja) near attractions like the Church of San Vicente and La Concha beach, so we didn't need a car for any of our sightseeing (we did take a car for our photos). The staff we're oh-so accommodating and helpful; they even referred us to our wonderful wedding planner, Leire Ibanez of 20 Eventos. We also loved the afternoon tea, flush with finger sandwiches, cakes and champagne, at the highly polished DRY bar on the first floor. Yes, the digs here are spendy but is there any better way to end your elopement night than with a pillow-top, king size bed and panoramic views? Perhaps only breakfast in bed the next morning a la white glove service!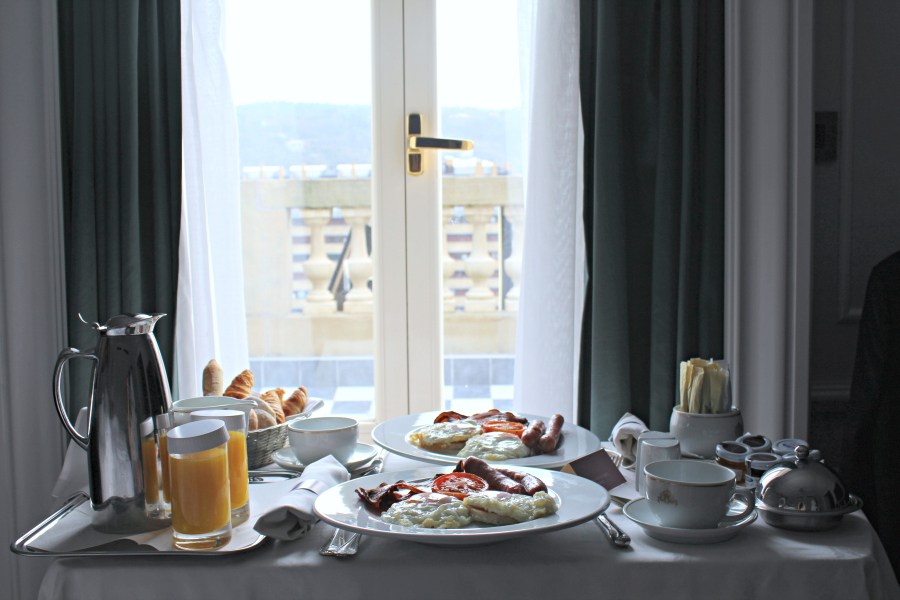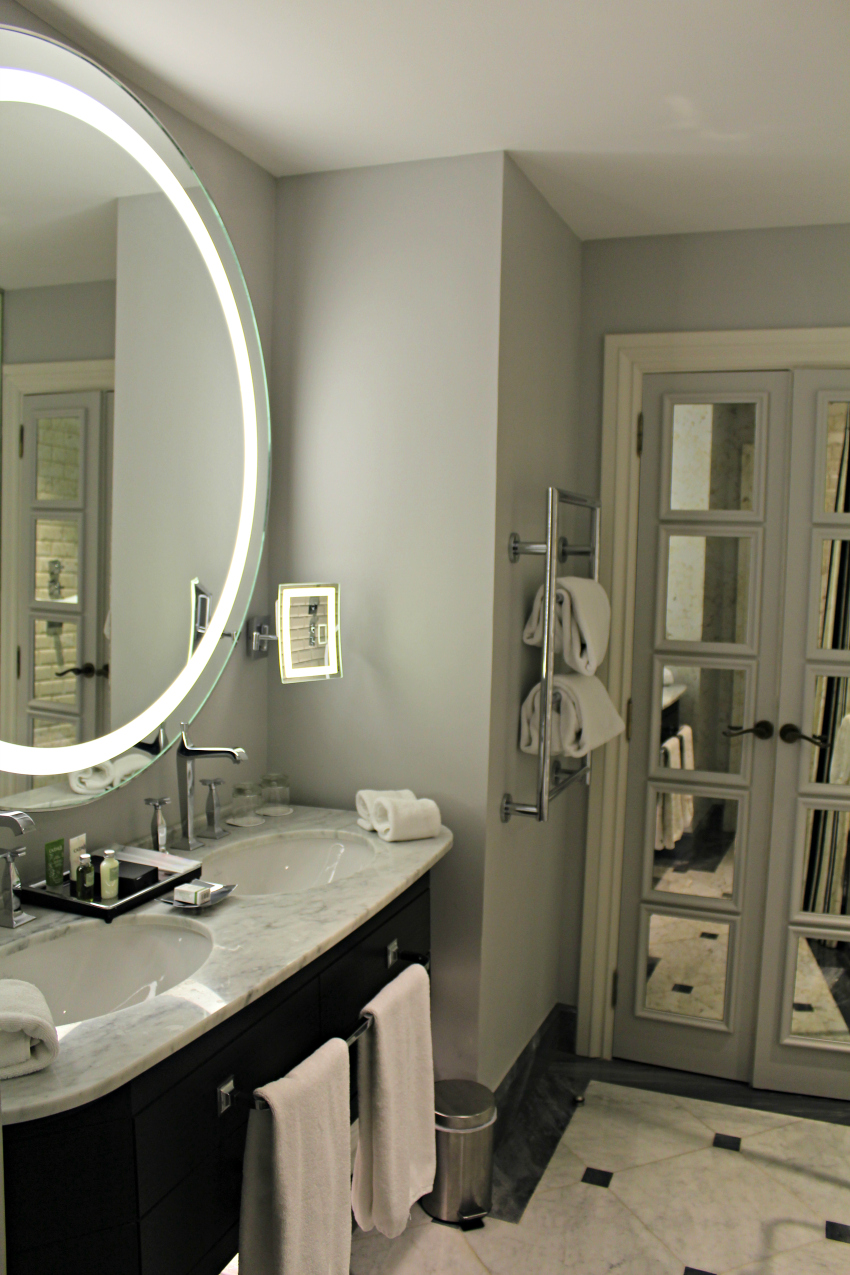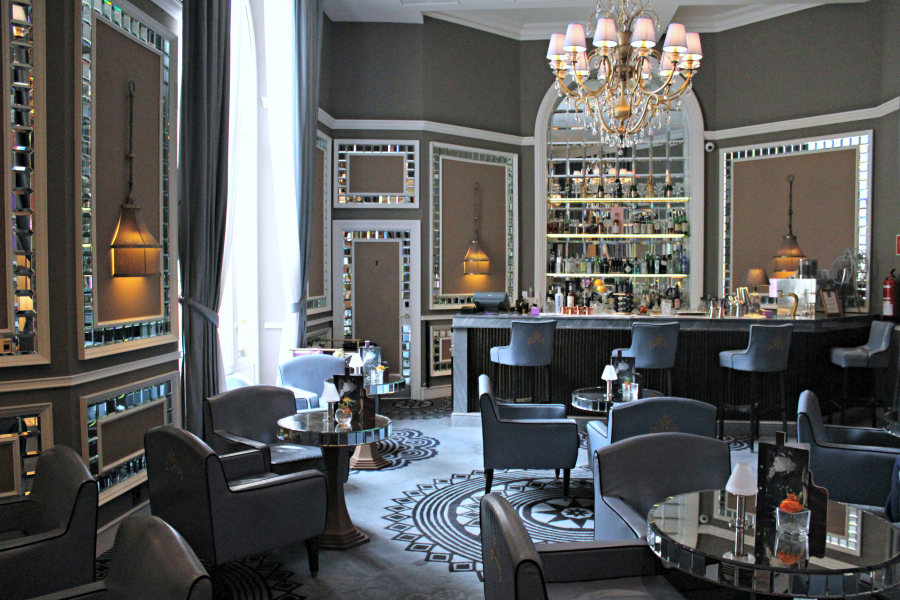 Souvenir: It's almost a sin not to depart San Sebastian with an edible souvenir but the hassles of air travel often make this more of a pain than a perk. Gourmet goodies aside, a local beret hat, called a txapela, makes a nice, packable takeaway and can be found in many an old-town boutique. We also snagged a small sailboat handicraft, which has become a beautiful addition to our Christmas ornament collection.
Did You Know:   Everything, alright almost everything, is closed on Mondays and Tuesdays here! Now this is a biggie to remember when you're designing your dream wedding day. We married on a Tuesday because it was our anniversary, but that meant several of the restaurants that came highly recommended to us were closed. It wasn't a deal breaker for us, because with a little string pulling we still ended up with a killer reservation in town at Kokoxta, but it meant that cooking classes and pinxtos crawls were not an option for the few days we were in town.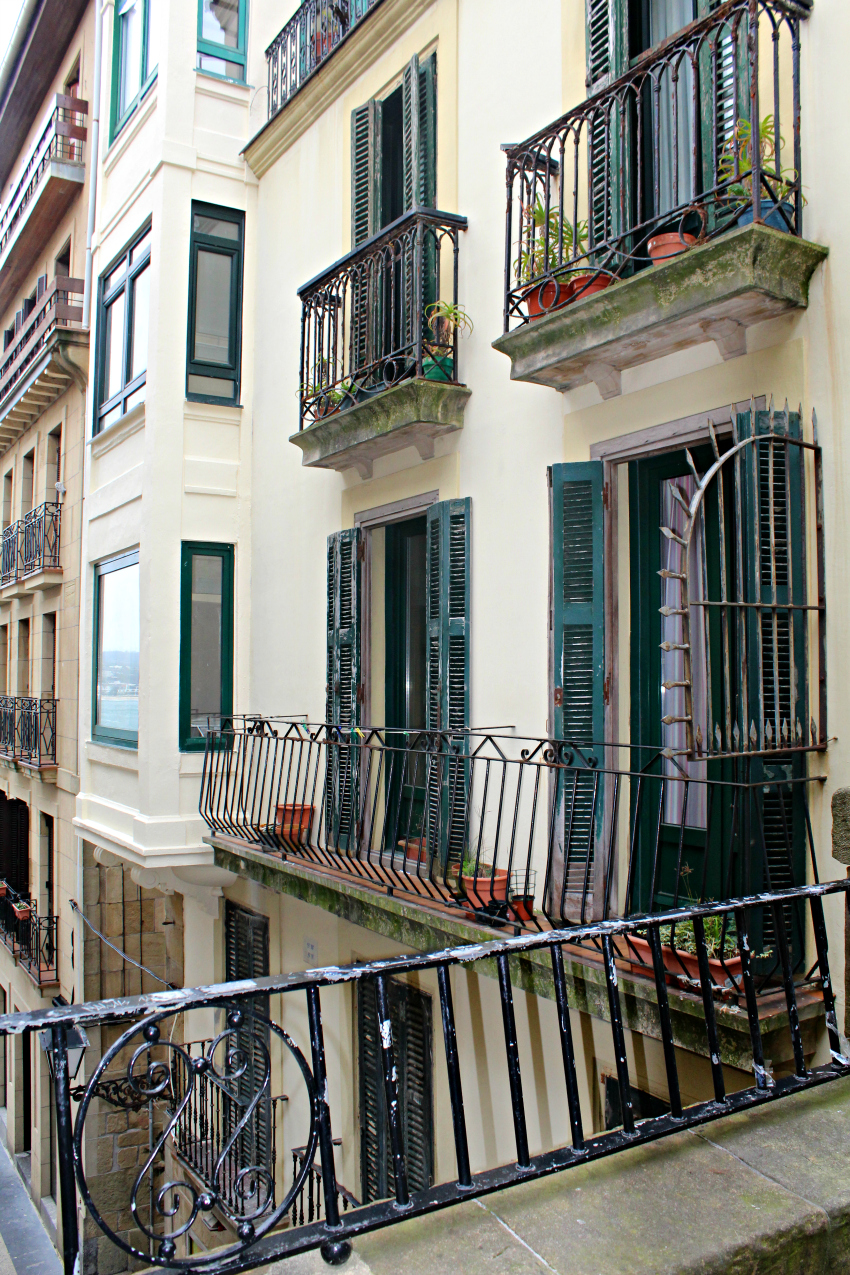 What Do You Think?
Et voilà – you're privy to the finer points of my wedding day in San Sebastian. It doesn't get much better than an enchanting elopement in Spain's beautiful Basque country, and a fairytale finale in Paris! Of course I am biased- but for those of you looking to tie the knot in a European locale that's both unusual and exquisite, I can't recommend this destination enough.
I would love to hear if anyone else has wed in Donostia or is planning a San Sebastian elopement- leave a comment below or send me an email.
Head over heels for San Sebastian? To find out how to get married in San Sebastian, read Elope to San Sebastian. To see even more San Sebastian elopement ideas check out my San Sebastian Elopement board on Pinterest.
If you are planning a trip to San Sebastian, check out my San Sebastian Travel Guide
Ready to plan your elopement abroad?
We've got you covered with a FREE detailed Destination Elopement Checklist, just subscribe to claim this and several other destination elopement planning tools.
La Perla Spa & Restaurant
Comb of the Winds (Peine Del Viento)
Queens Palace (Miramar Palace)