My Wedding in Ocho Rios

Jamaica is lovingly known as the Land of Wood and Water, with as many beautiful beaches as tropical jungles. Pleasant temperatures year round and epic natural wonders to behold, Ocho Rios is nothing short of paradise and the perfect elopement destination. Carefree, sundrenched, and spicy; this is what my wedding day would look like if I were eloping to Ocho Rios…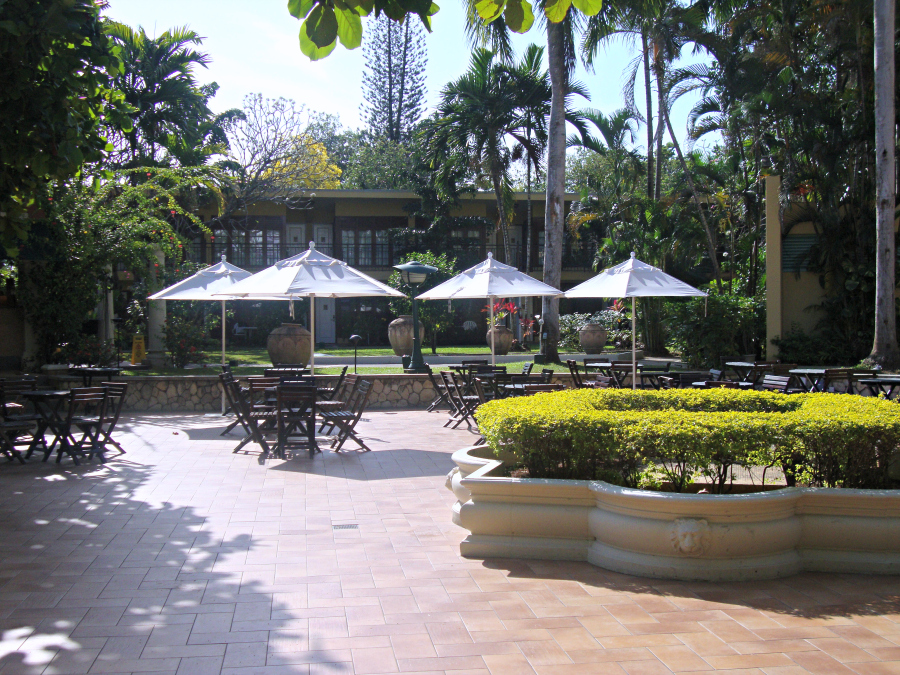 Breakfast: Ocho Rios Resort Cafe
Almost all of the larger accommodations in Ocho Rios are all-inclusive. With that in mind, on the morning of my wedding I'd sleep in a bit and have an unhurried breakfast or brunch at one of the onsite cafes at my resort. The breakfast buffets here are bountiful and usually include tons of amazing and unusual fresh fruits. A breezy, alfresco breakfast, with a side of pineapple mimosa, is the ideal way to start a wedding day in Jamaica. Outdoor seating at The Jewel Dunn's River Falls breakfast café overlooks the lush grounds, shoreline and turquoise pools. On second thought, not a bad day for breakfast in bed either…or on the balcony of our suite!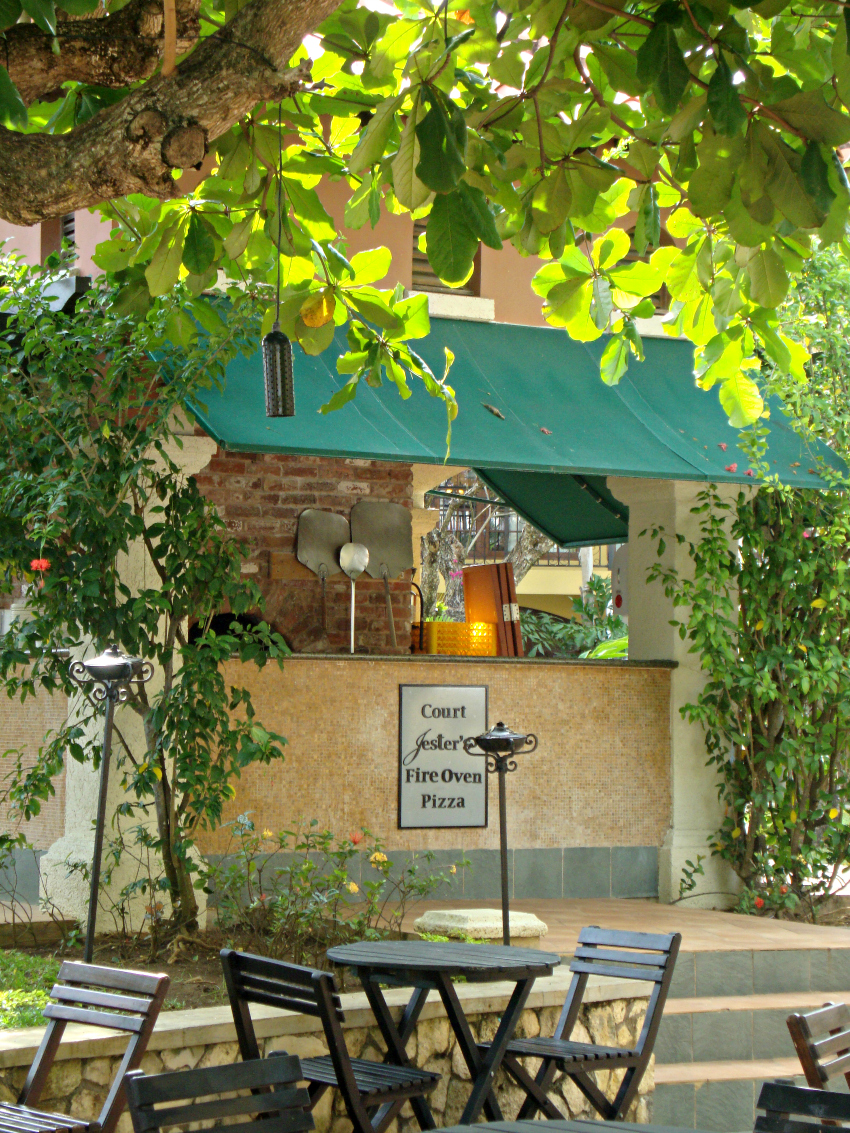 Outing: Laughing Waters
For a romantic wedding day outing, I'd choose the tranquil and secluded shores of Laughing Waters. Although this isn't really a public attraction, locals are quite familiar with the location- and the legend. It is said that a dunk in the whirlpool of the Laughing Waters will bring a couple good luck, and what better day for some extra fortune! To reach the Laughing Waters, I'd ask one of the water sports staff at my resort if they'd take us out on a catamaran or small boat (for a nice tip of course). I'd wear my favorite, flirty swimsuit, bring a fresh coconut drink, and take a waterproof camera (or case for my phone) to get some once in a lifetime photos. The beautiful carved rock on the beach says it all and will put us in just the right, relaxed mood for our elopement: Life is Vibes. At close second, we might decide to take a lazy, carefree float down the White River on a tubing excursion.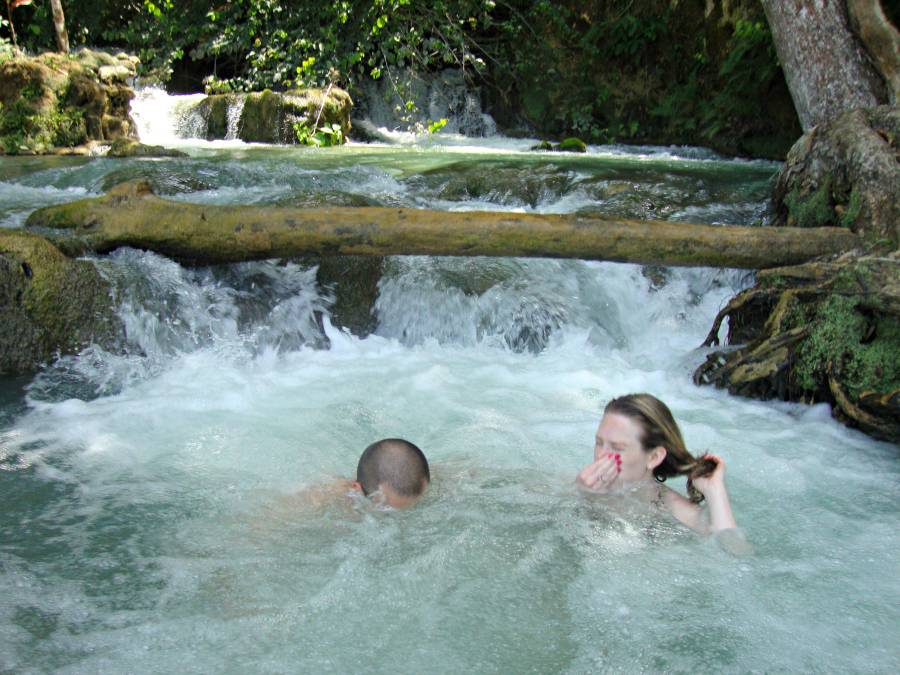 Lunch: Scotchies
After enjoying a refreshing dip (and definitely before getting ready), I'd savor the sweet-heat of an authentic Jamaican jerk lunch. Mouthwatering, and messy, it doesn't get any better than legendary, local eatery Scotchies in Ocho Rios. For a laidback and leisurely pre-elopement nosh, I'd snag a table for two under an outdoor thatch hut. For the full experience I'd order a little of everything to share: finger-licking jerk chicken and sausage, roasted breadfruit, sweet potatoes, and corn bread fritters.
Dress: Jane Hill Crochet Wedding Dress
My dream dress for this elopement is light, airy, and a little boho. The luxe "Lottie" from Australian designer Jane Hill is an updated crochet gown with clean-lines. The mermaid silhouette and low back is simultaneously elegant and sultry. The fabric is what really sets this wedding dress apart, it has a lovely and laidback quality perfect for Ocho Rios.

Accessory: Backdrop Necklace
Backdrop necklaces are everywhere right now, from BHLDN to Etsy, and Ocho Rios is the perfect spot to sport this sensual trend. The stunning dress I selected for this elopement begs for a delicate rose gold back chain and lariat. While there are some gaudy bridal styles out there I tend toward the subtle and simple, like this one from Bloomarine or an even more minimal version from ThreeLayers. I'd definitely purchase this accessory in advance since it's not specific to Jamaica.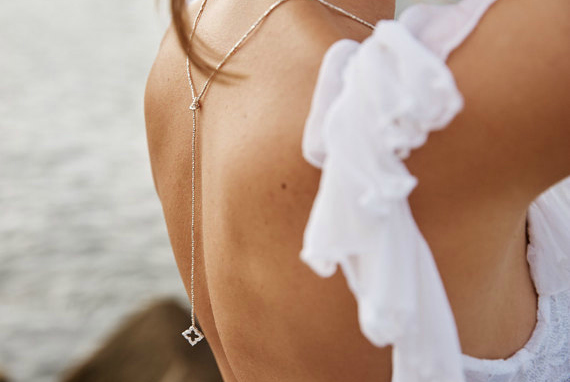 Flowers: Coral Flame Calla Lilies
For my elopement in Ocho Rios I'd carry a simple bouquet of Coral Flame Calla Lillies; radiant and tropical without looking typical. Reminiscent of vibrant sunsets, hot sands, and rose gold, the mango hue of these flowers will look perfect in photographs.
Ceremony Location: Private Beach
I'd arrange to exchange vows with our toes in the sand at sunset on our resort's private beach in Ocho Rios. What better elopement ambiance than the smell of saltwater, the sound of crashing waves, and the warm glow of the sun setting into the ocean. There's something so down-to-earth and unpretentious about a barefoot wedding on the beach. It seems like the perfect setting for a wedding in paradise, and the perfect way to begin an equally grounded marriage. At the Jewel Dunn's River Resort where we stayed, the Jade Garden Gazebo is another scenic venue for saying I-do amidst fragrant tropical flowers.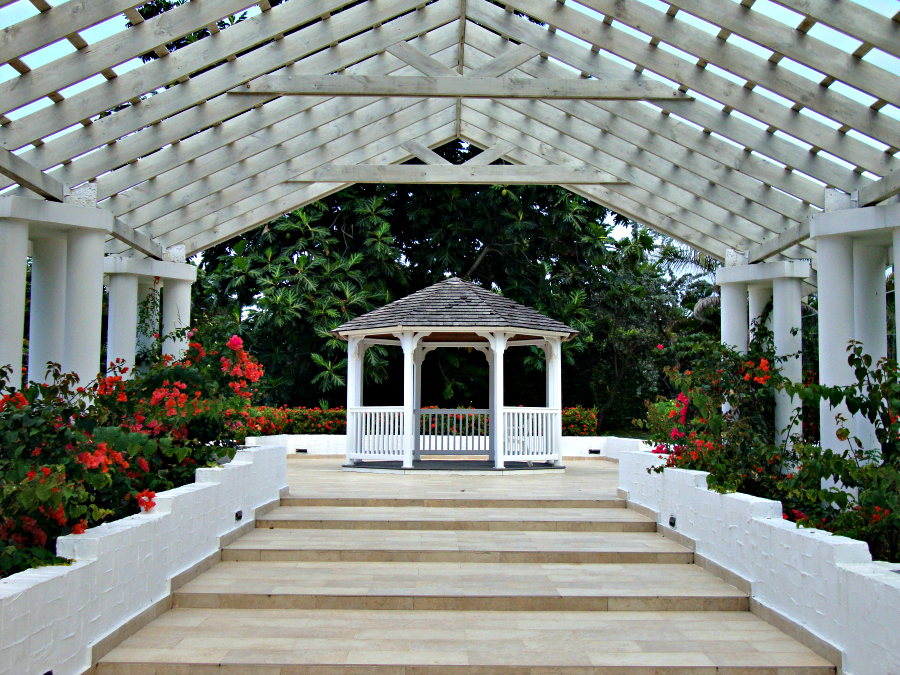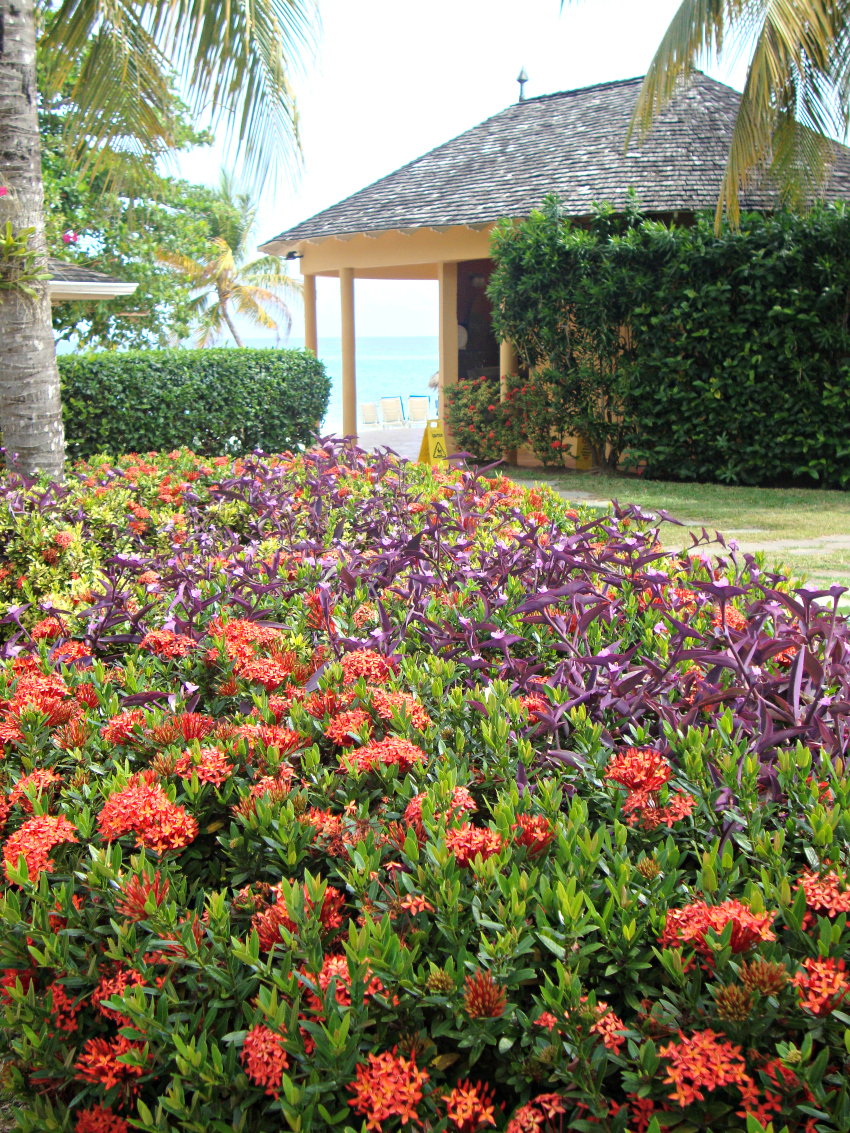 Soundtrack: Bob Marley's Is This Love
It's impossible to consider Jamaican music without immediately thinking of Bob Marley. Since he's responsible for some seriously romantic songs, there's no need to look any further for the perfect Ocho Rios elopement soundtrack. I'd walk down the aisle, or the sand as it were, to an instrumental version of Bob Marley's Is This Love performed by the United Guitar Players, or possibly to another saucy cover by Corrine Bailey Rae.
Toast: Red Stripe               
A festive post wedding toast in Ocho Rios should be as laidback as the location itself. No sweet, swanky, sparkling glass clinking here. For my elopement is Ocho Rios it's got to be toast with a regional Red Stripe beer, after all it's a relaxed wedding. Ya Mon!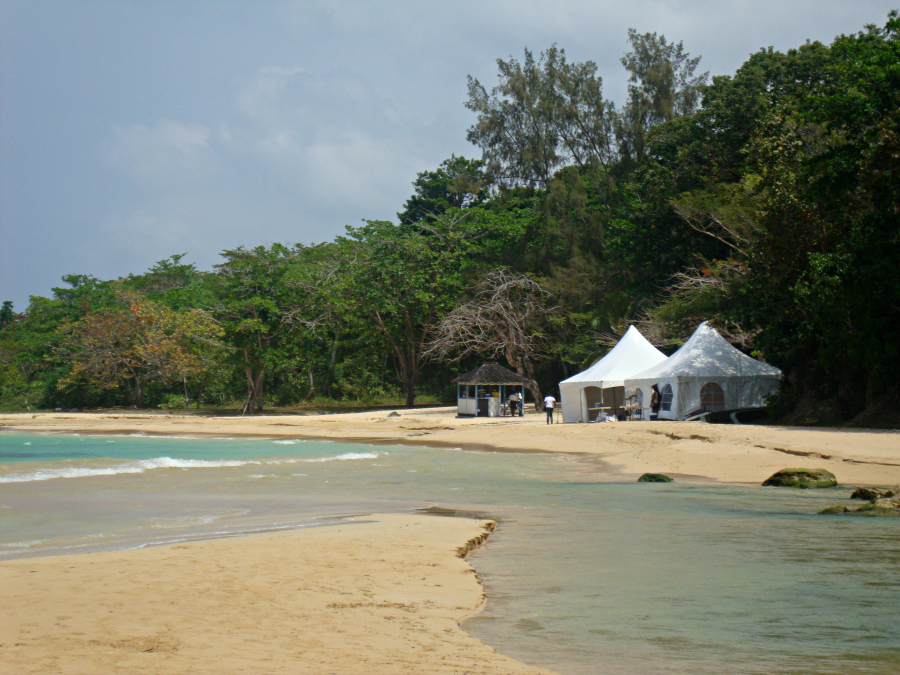 Wedding Photos:
Part of the appeal of eloping overseas is getting those jaw dropping wedding photos you can bring home and share from your special day. For my Ocho Rios elopement, I'd want to get as many gorgeous sunset shots as possible before our wedding dinner. Here are some must haves:
Holding hands, walking along the beach
Looking at the sunset with bare footprints behind us
Handprints in the sand with our rings
In front of the painted trees at the Jewel Dunn's River Falls
With the cascading waterfalls at Shaw Park Gardens & Waterfalls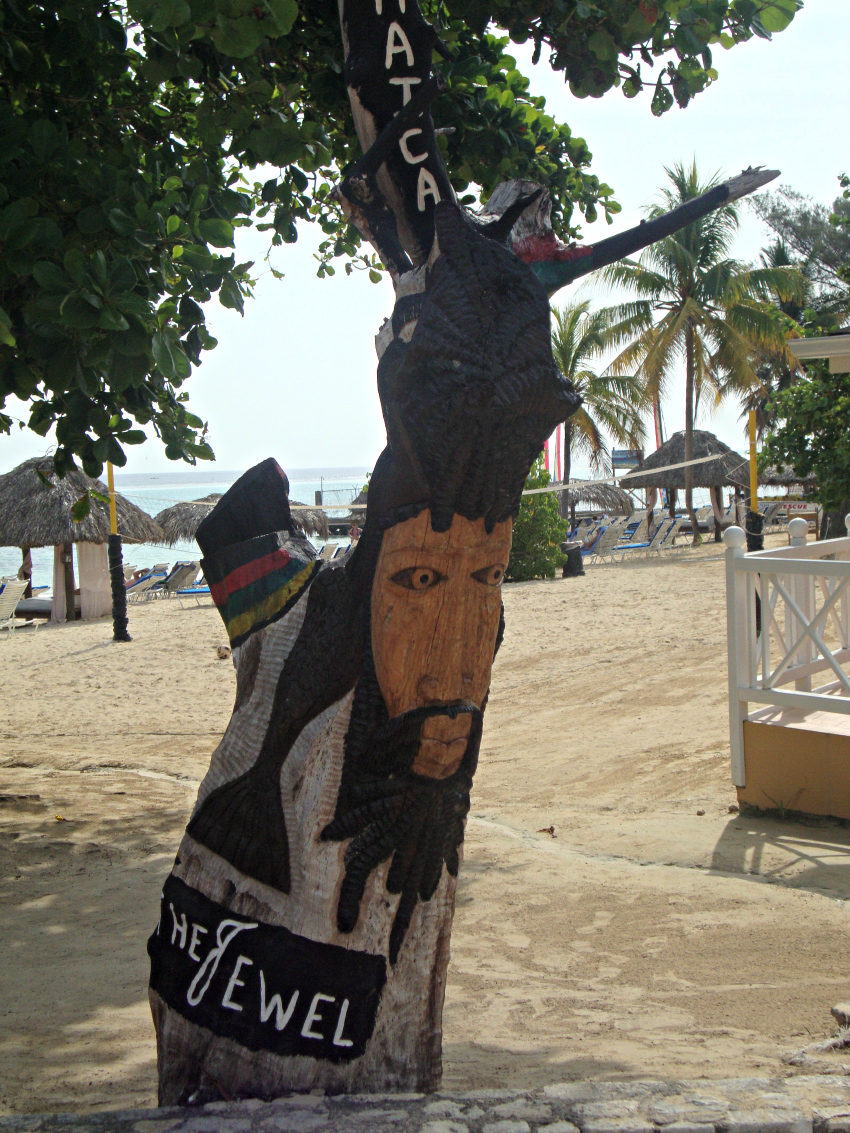 Dinner: Jamaica Inn's Restaurant
For our 'Just-Married' dinner, I'd make reservations for two at the acclaimed open-air verandah at Jamaica Inn's Restaurant. With a beautiful beachfront location, old-world elegance and white glove service this is the place to be for such a celebration. While nothing can quite top a wedding ceremony in the sand, a decadent Caribbean feast under the stars as newlyweds is its own slice of heaven. Chef Maurice Henry's restaurant boasts live music every evening and highlights a changing menu where you can select six expertly prepared courses. A Saturday wedding dinner calls for savoring some Caribbean Lobster (the nightly special), while most any other evening I'd be hard pressed to pass up the Grilled Black Angus Entrecote Steak with sautéed hearts of palm and herb butter. As it's regularly listed as one of the top ten restaurants in Ocho Rios, do yourself a favor and make your reservation in advance (you can email or call the hotel via the contact information on their website).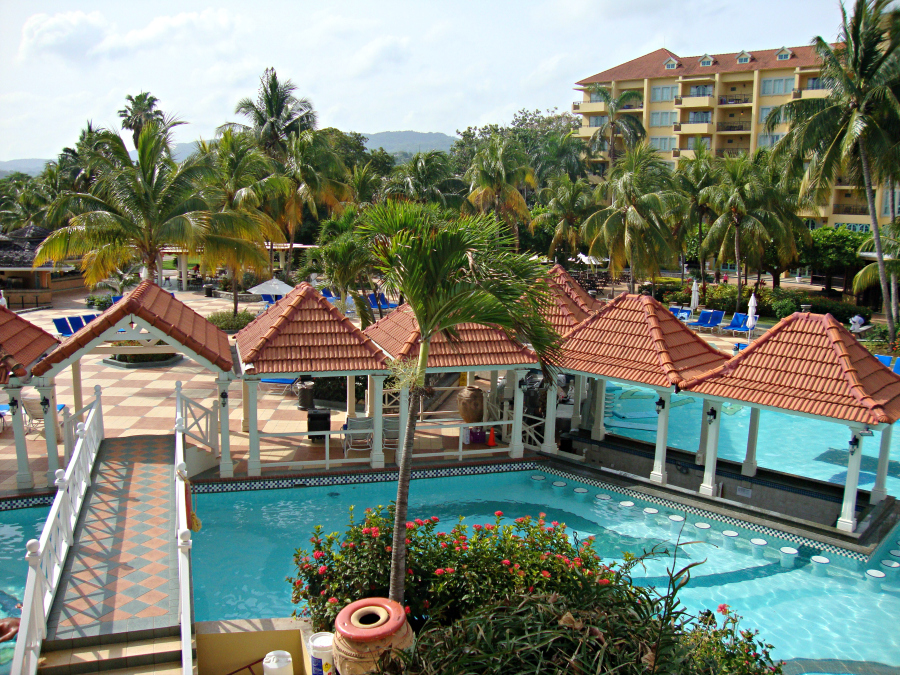 Honeymoon Suite: Jewel Dunn's River Beach Resort and Spa
For a perfectly located and appointed honeymoon suite, I'd set my sights on The Jewel Dunn's River Resort. Repeatedly named one of the top-rated, adults only, all-inclusive resorts in the area outfitted with every possible amenity. The Jewel boasts primo beachfront real estate in Ocho Rios, and is only a quick drive to the breathtaking wonder of Dunn's River Falls. The resort has 250 rooms, each with a four-poster bed, a stocked mini-fridge and free Wi-Fi (our room also had a lovely portico overlooking the ocean). In case you need any help unwinding, enjoy the full-service spa with hot and cold plunge pools, a whirlpool and a couples treatment room. You can chose from six delicious and diverse restaurants onsite (Surf and Turf, Hibachi Grill, and Caribbean are a few of the favorites), and have your pick of six bars (FYI- the all-inclusive rate includes premium top-shelf liquor). Since your wedding day is only one of many on your elopement trip you'll be happy to find that the resort offers activities galore: two pools with swim-up bars, non-motorized water sports, tennis clinics, volleyball, basketball, a nine-hole putting course, and complimentary green fees at the 18 hole championship Runaway Bay Golf Club. For my Ocho Rios elopement I'd take advantage of the free glass bottom boat, or maybe even upgrade to the Champagne Ski Boat Cruise for $50 USD- if any occasion calls for indulgence it it's a honeymoon. The Jewel Dunn's River Falls is part of Hilton's Curio Collection, so if you want to save some dough on your elopement stock pile your Hilton HHonors points for a free stay. Also, it doesn't hurt to check the daily deals sites before you book, believe it or not we actually purchased our stay at the resort through Groupon.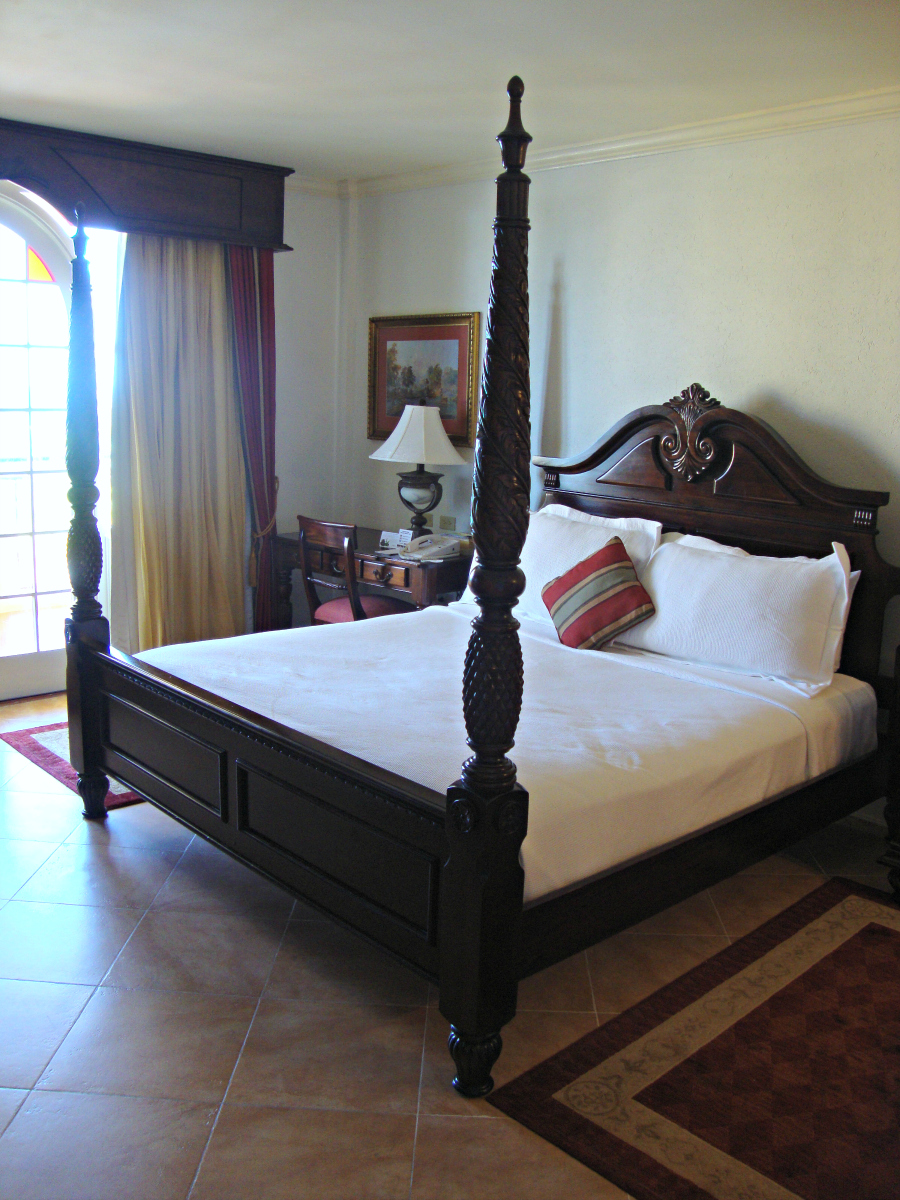 Souvenir:
The essential souvenir from Ocho Rios has to be an artisanal eucalyptus or mahogany woodcarving. Sturdy, small enough to pack, and perfect for turning into one of my travel ornaments for the holiday tree. Any extra room in my suitcase would be designated to a bag (or three) of Jamaican Blue Mountain Coffee.
Did You Know:
The traditional Jamaican wedding cake is fruit flavored and spiked with a dizzying amount of white rum.  Just make sure to enjoy some dinner before you have your Jamaican wedding cake and eat it too!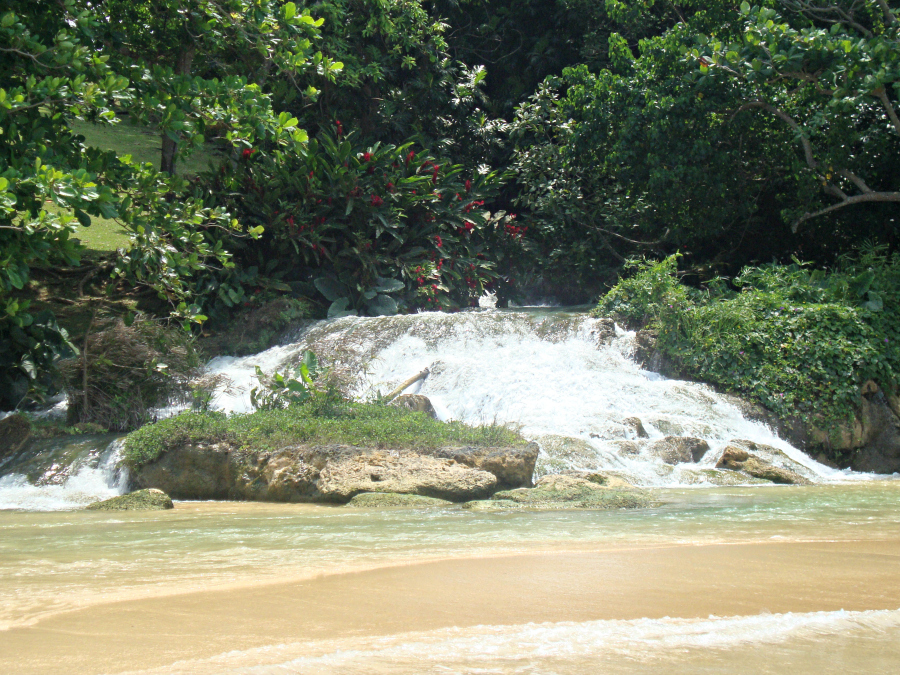 What Do You Think?
There you go- all the particulars for my wedding day if I eloped to Ocho Rios. Seems like a serene and carefree big day to me. I was ridiculously relaxed on our trip to Ocho Rios, I bet it'd be a perfect place to tie the knot. I would love to hear if anyone arranges this wedding, or plans another Ocho Rios elopement- leave a comment below or shoot me an email!
Vibing on Ocho Rios? To find out how to get married in Ocho Rios, read Elope to Ocho Rios.
To see even more Ocho Rios elopement ideas check out my Ocho Rios Elopement board on Pinterest.
If you are planning a trip to Ocho Rios, check out my Ocho Rios Travel Guide
Ready to plan your elopement abroad?
We've got you covered with a FREE detailed Destination Elopement Checklist, just subscribe to claim this and several other destination elopement planning tools.