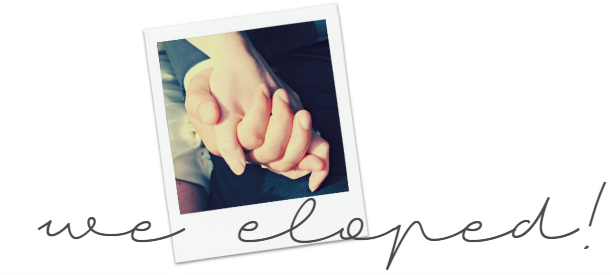 You're invited to crash the real elopements of couples around the world to get day-of details, inspiration and advice. Enjoy all of the elopement eye-candy!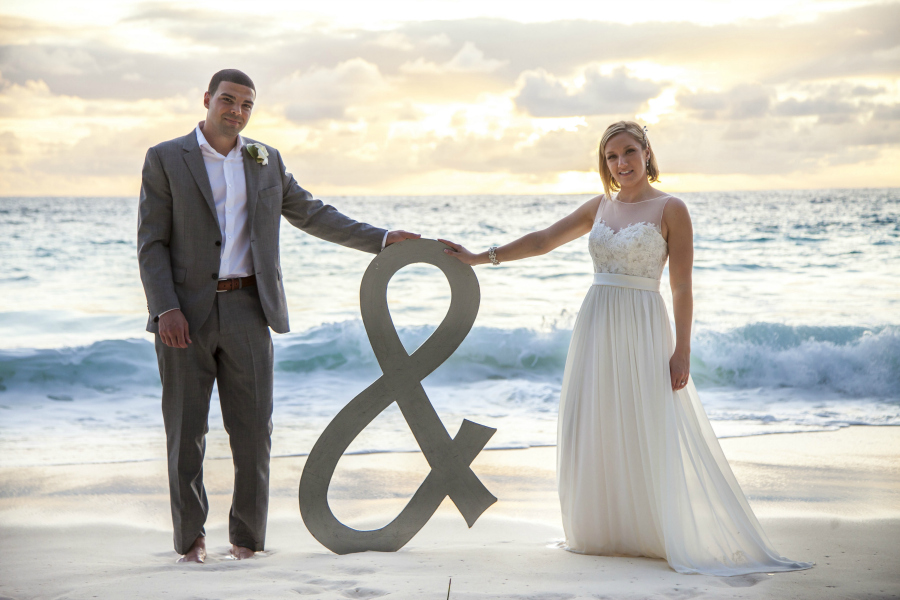 Serene Elopement in Mahe, Seychelles
Couple: Andrea and Jason, Ontario, Canada // 25 May
Venue: Four Seasons, Petite Anse, Mahé, Seychelles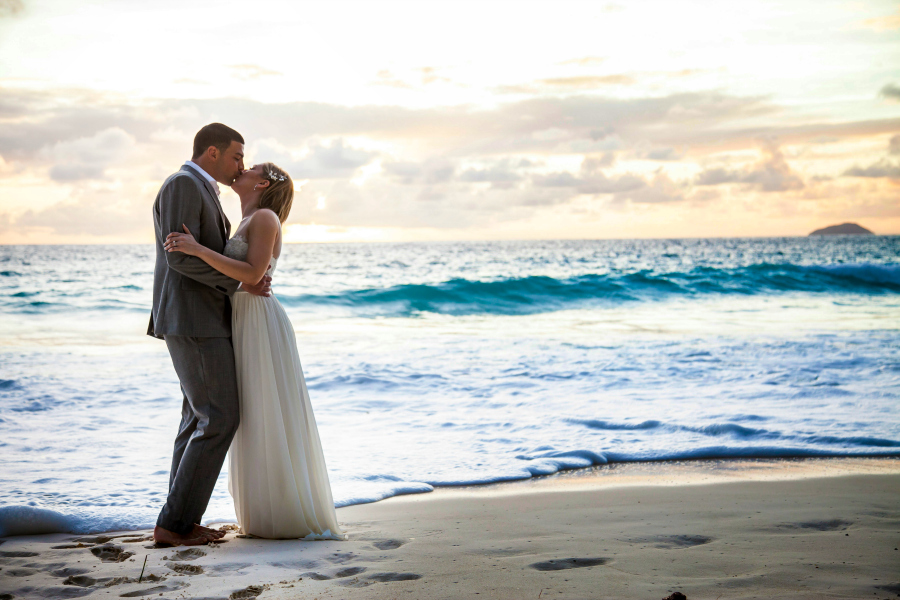 Somewhere between designing wedding invitations and selecting floral arrangements, Andrea and Jason realized that the traditional, fancy affair that they were planning just didn't feel quite right. The pair was less enthused about registries and rehearsal dinners, and more excited dreaming about their exotic honeymoon options. Despite having already booked a venue, they made the decision to pull the plug on their plans and be true to themselves. The result? A full on fairytale! Check out this elopement on the island of Mahe in Seychelles, complete with shimmering white sands, serene sunset photos and a twinkling candlelit dinner for two. The couple hired photographer De Waal Rautenbach to document all the dreamy details of their destination elopement.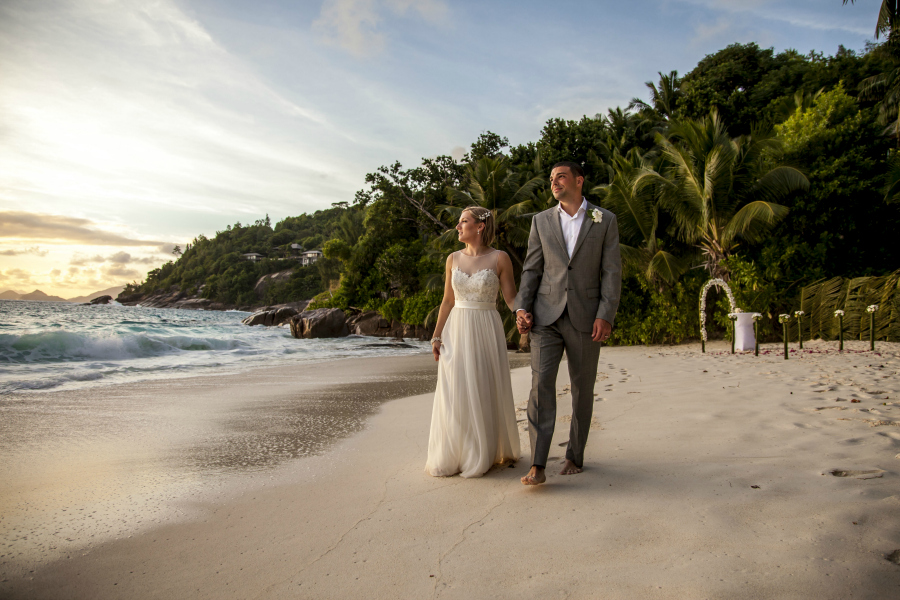 What made you decide to elope?
Eloping was not something we initially planned to do. We actually had a venue booked, deposit paid, and we had begun looking for a photographer, flowers, invites, etc. As we were going through the process of planning a wedding, we quickly realized we didn't enjoy any part of it. It simply wasn't for us; we couldn't picture ourselves in it which made it extremely difficult to try and plan. We found ourselves sitting down to plan the wedding, but instead of choosing colours we'd end up researching honeymoon destinations! We realized that we needed to be true to ourselves, and cancelled our local venue to elope abroad.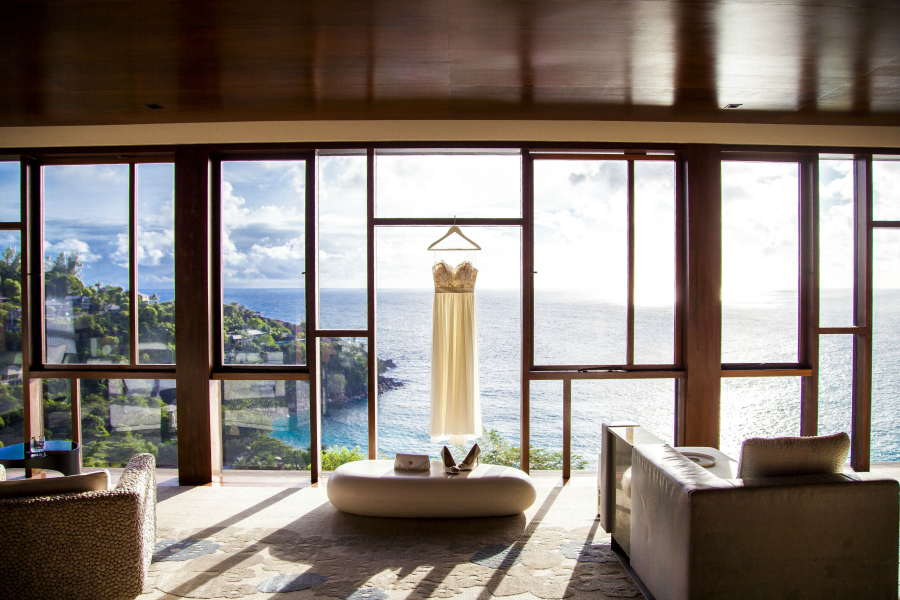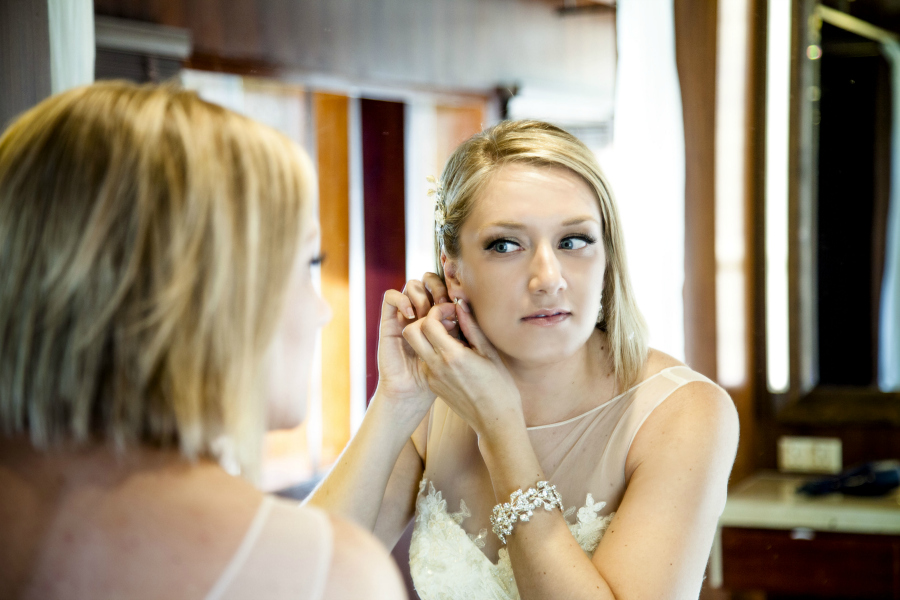 Describe your elopement planning process
Planning our elopement was extremely easy, and we "planned" it to be that way! We simply booked our trip to the Four Seasons Resort Seychelles and contacted their wedding specialist who provided us with different wedding packages, they would take care of all of the details. We were also provided with local photographer recommendations and booking was as simple as few emails with De Waal at De Waal Rautenbach Photography. Closer to our departure, we had a 40 minute call with our wedding specialist to iron out the timing of the day, venue, vows, cake, flowers, where we would get ready, dinner, etc. It was exciting to know that we'd soon be getting married in an exotic location of our dreams and all the details were being taken care of by their expert staff.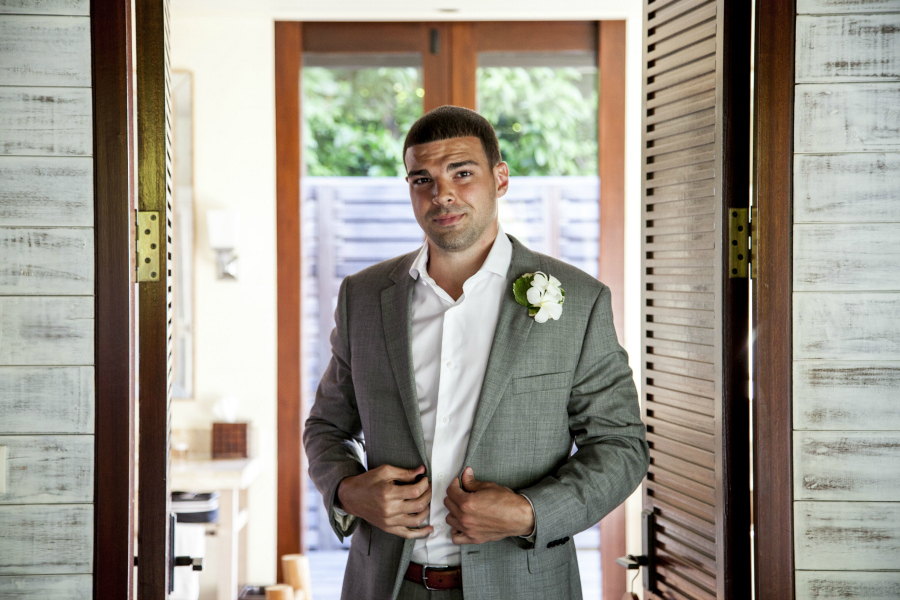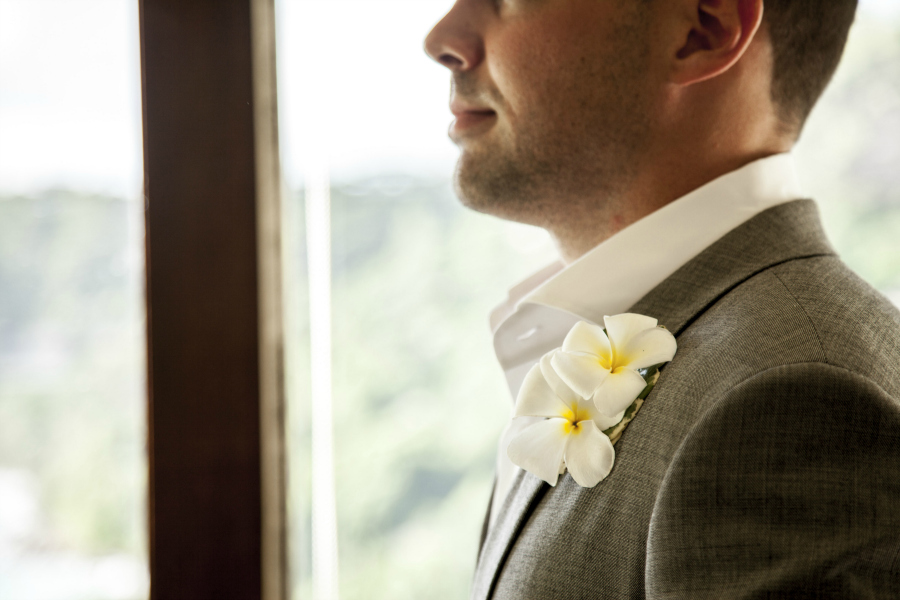 Where in the world did you elope?
We were married on the white sand beach at the Four Seasons Resort Seychelles which is located at Petite Anse, Mahé, Seychelles. Jason is an avid traveler and had always wanted to visit Seychelles. The beaches are stunning, the best in the world, and the water is so blue! We specifically chose the Four Seasons Resort because it offered a stunning and secluded beach, wedding packages covering all details and planning, and panoramic views from the spacious hilltop villas. Also, you can be legally married in Seychelles and this was really important to us.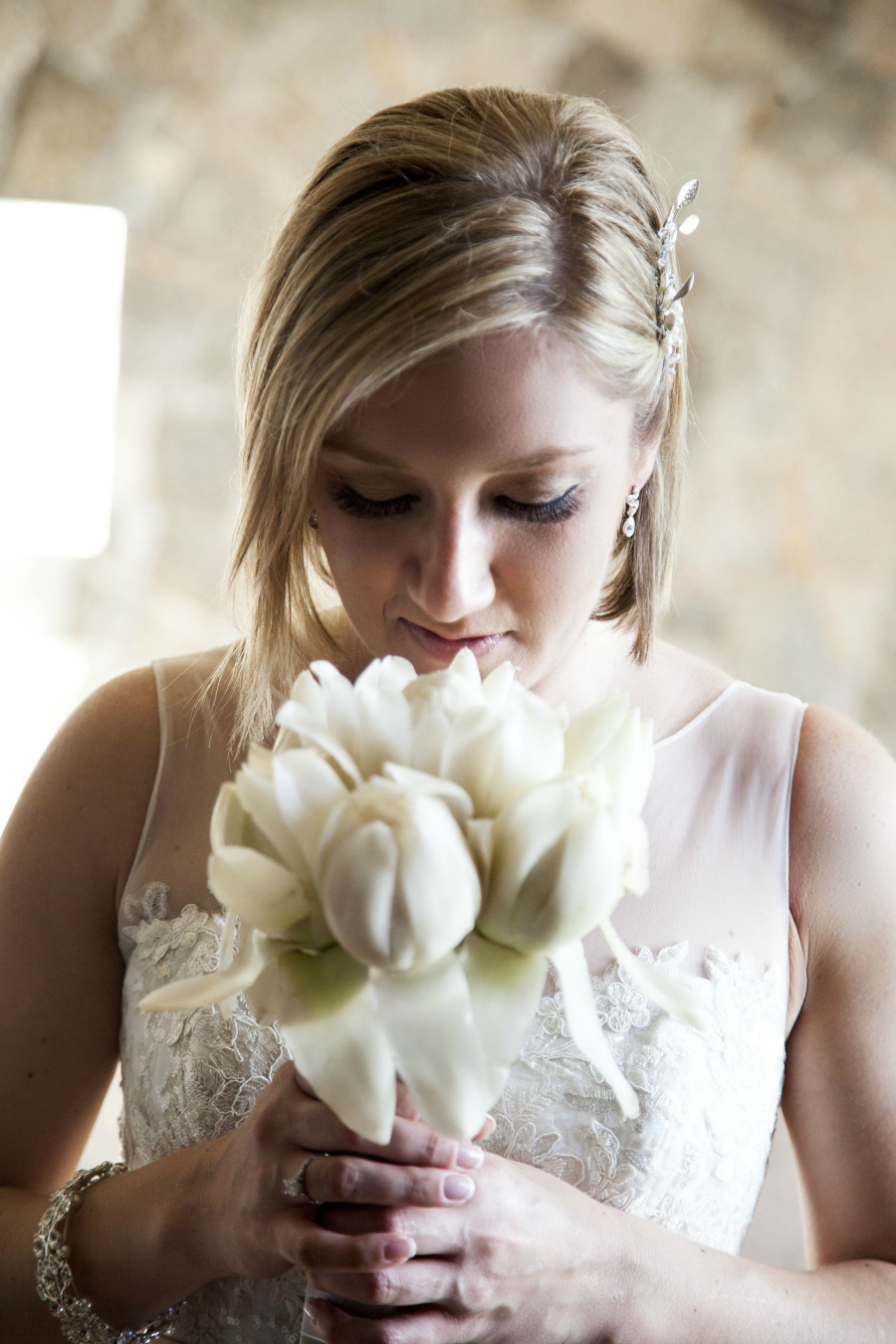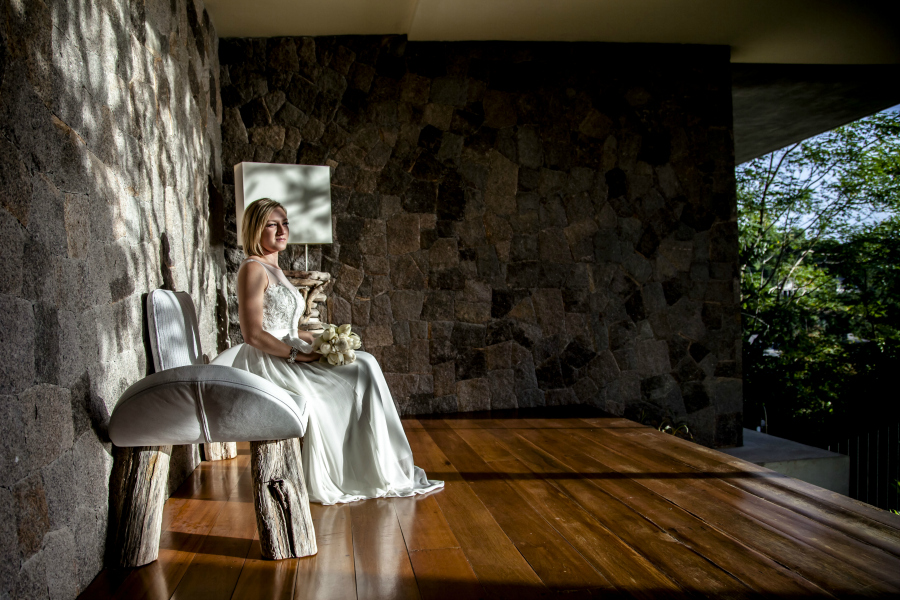 Recap your big day for the EA audience…
On our wedding day in Seychelles, we enjoyed breakfast together and then headed down to the beach. We relaxed and swam in the ocean until it was time to get ready. While I was getting ready at the Hilltop Spa, Jason was in our villa. We didn't want to see each other before the actual ceremony. I had my hair styled and did my own makeup. I wore a light dress to stay cool in the Seychelles heat, a silver and pearl hair comb from Davie and Chiyo, a bracelet which was a gift from my mom, and although I had heels the actual ceremony would be barefoot on the beach. My bouquet was made from exotic local flowers. Jason wore a light grey suit and white button up shirt.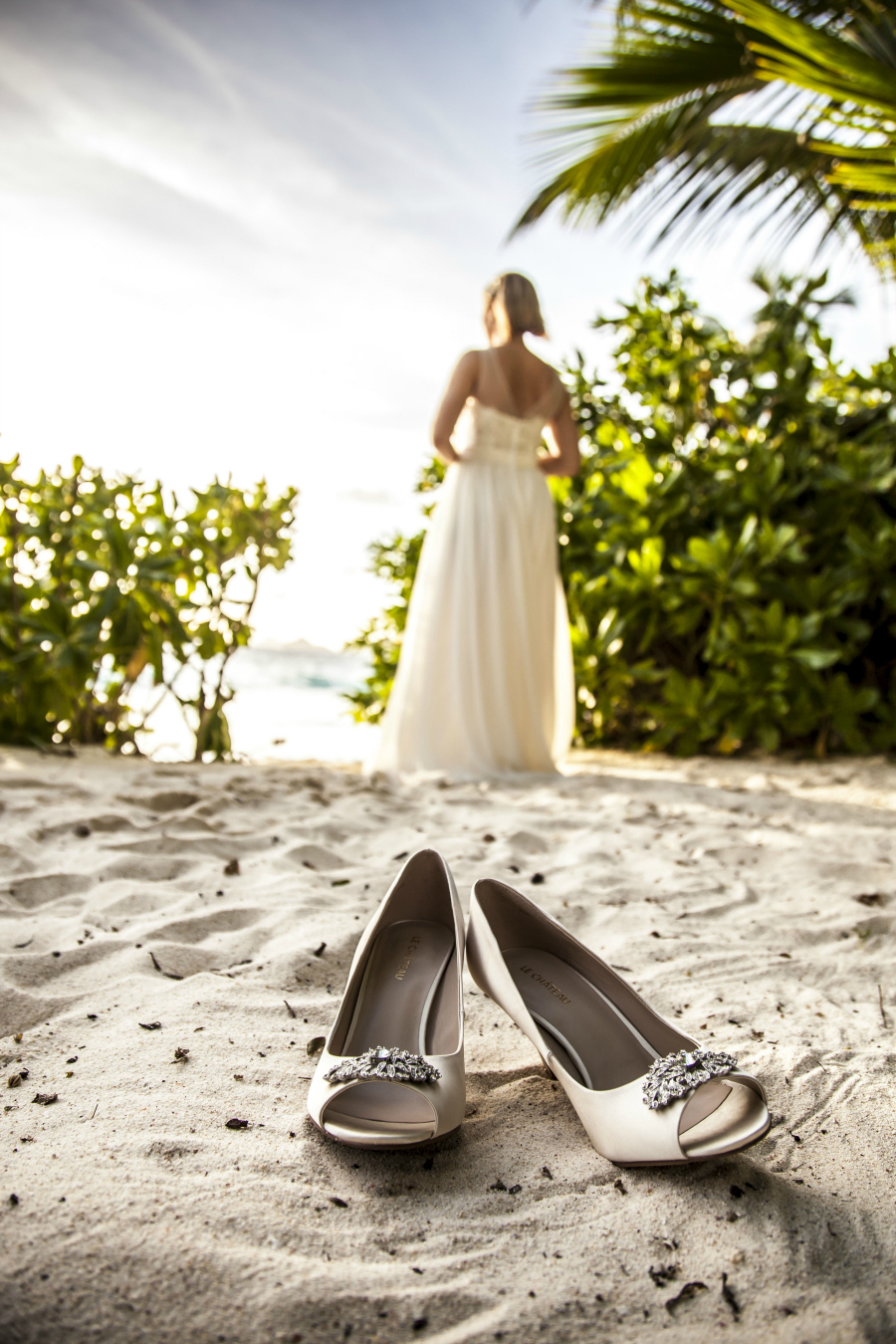 De Waal went back and forth between Jason and I to take photos of us getting ready. When it was time for the actual ceremony, Anna our coordinator, and De Waal accompanied me down from the spa in a beautifully decorated buggy to the beach. There was an opening in the greens along the beach where I walked out to see Jason by a white flower arch surrounded by palm trees and the large granite rocks Seychelles is known for. The location was perfect because it was in a relatively secluded, private area. The ceremony was short and sweet (at our request), followed by a champagne toast and cake cutting. We then took photos with De Waal along the water as well as back at the Hilltop Spa. Everything was timed perfectly so that we had the best of the sunset light for our photos. It really couldn't have worked out better!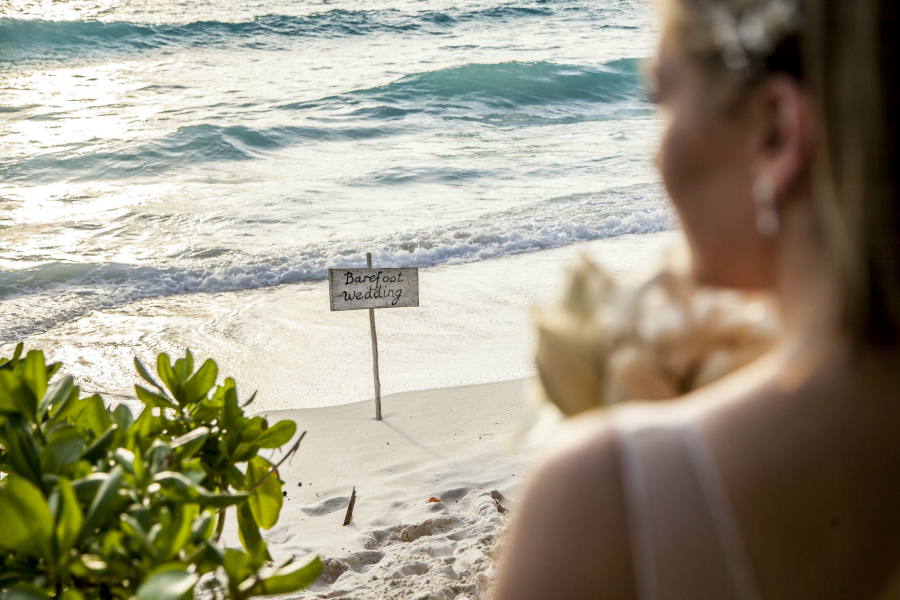 Afterwards, we had dinner at Foumba ("old house" in Creole) which showcases the ruins of a typical Creole house located right on the resort. Only the four walls remained, overtaken by vegetation decorated with flowers, twinkling candles and fairy lights overhead. The food was absolutely delicious and it was one of the most romantic dinners we've ever had together. The whole day was more than we ever dreamed of!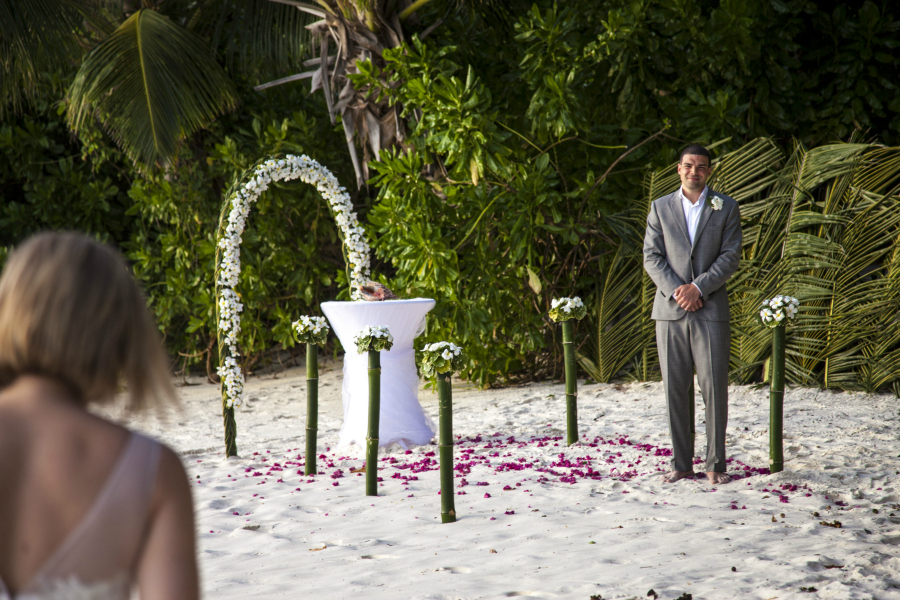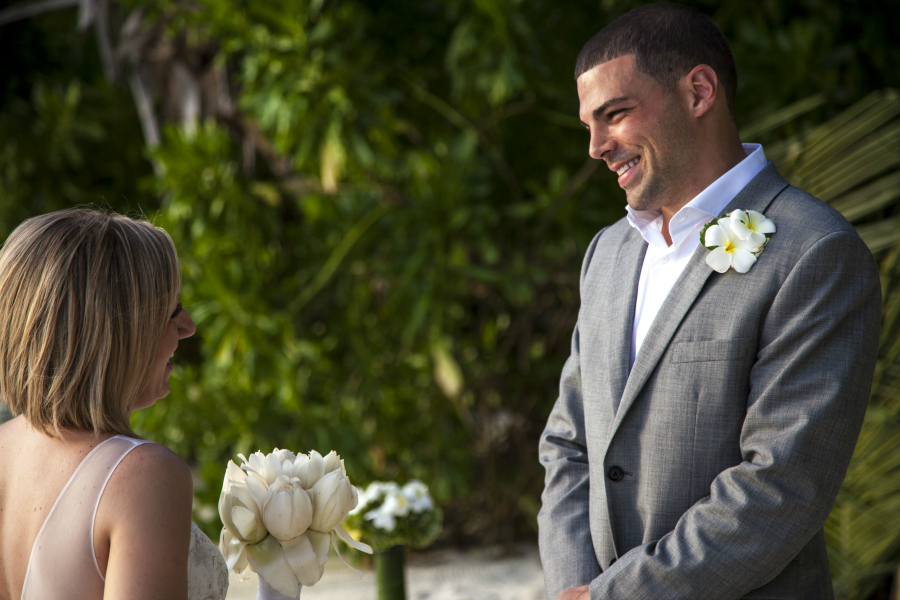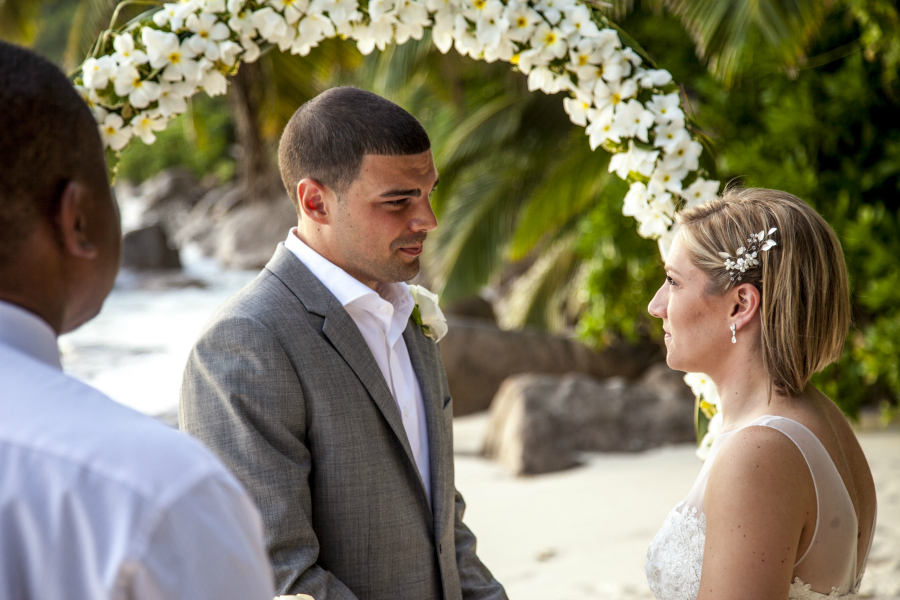 What was the best part of eloping? What was the hardest part?
The best part of eloping was being able to tailor our day to exactly what we wanted and to be able to get married at such a stunning venue. The hardest part was telling our family and friends that we cancelled our traditional wedding to elope.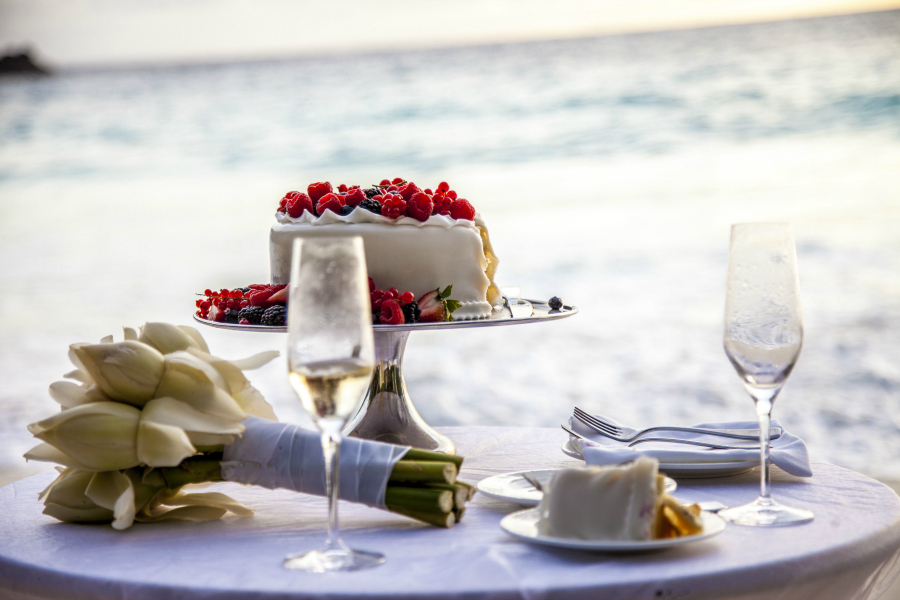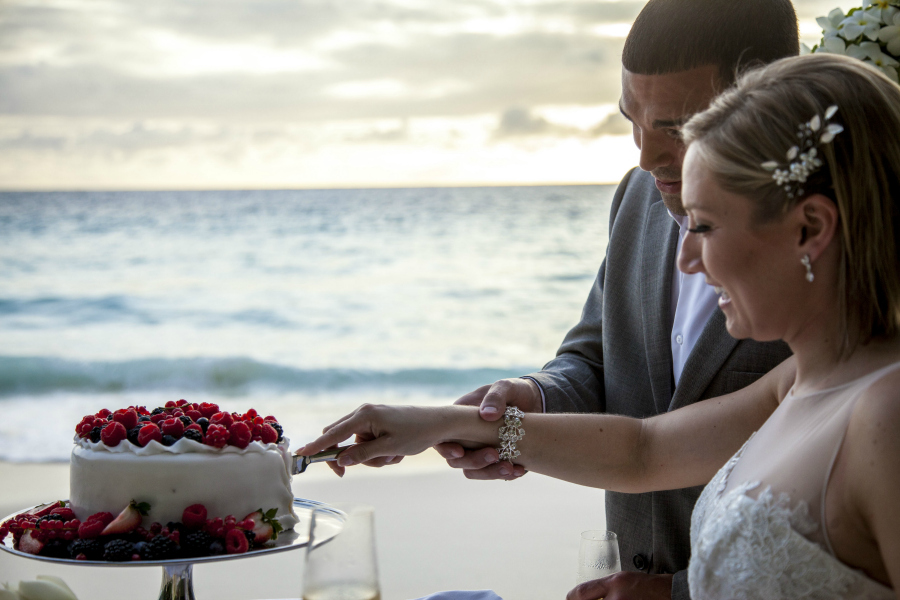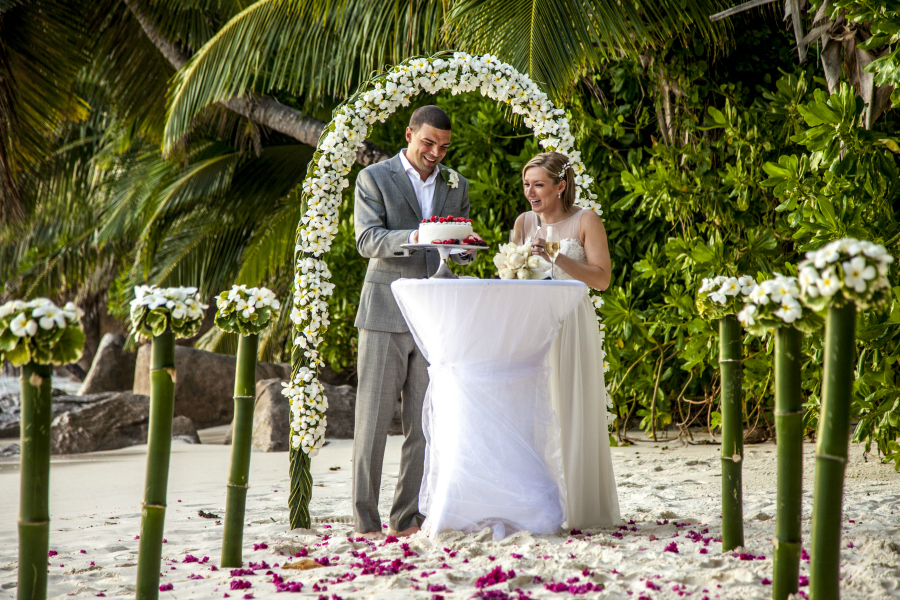 Did you have a honeymoon or include a honeymoon stop?
We booked another week at the lovely Four Seasons in Petite Anse, Mahé, Seychelles for our honeymoon.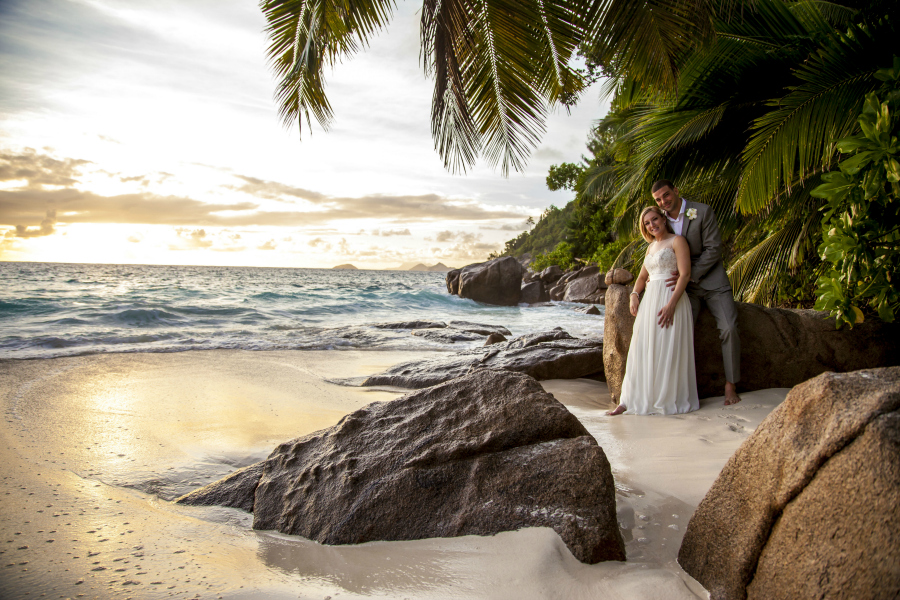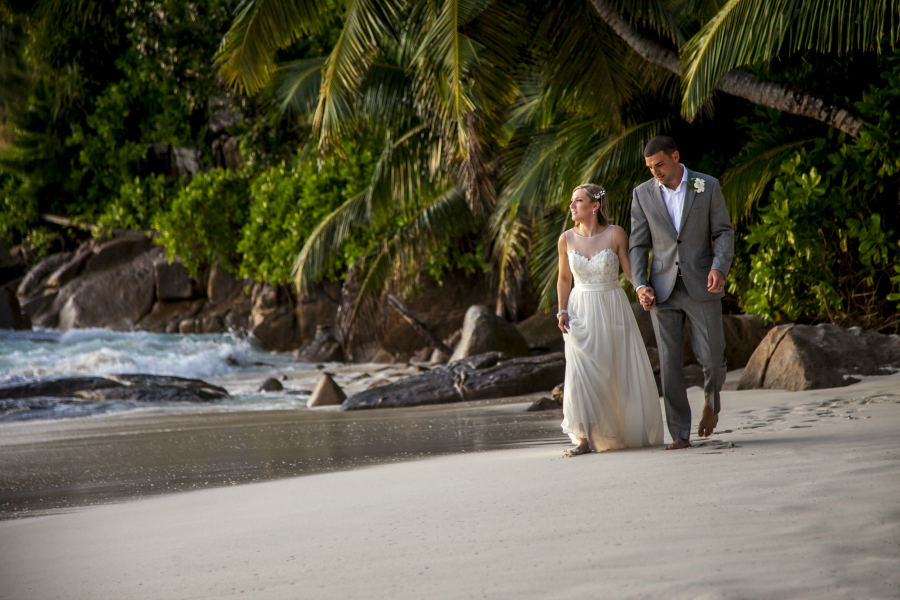 What was the approximate cost of your elopement and what did that include?
The wedding package we chose was approximately $4,000 (CAD) which included everything from the wedding coordinator, flowers, cake, champagne toast, dinner, officiant, in-villa breakfast, and honeymoon couples massages. We spent approximately $2,000 on attire, $2,500 on the rings, $150 on hair styling, $1,000 on photography, $3,500 on flights and $17,000 on accommodations (including the honeymoon).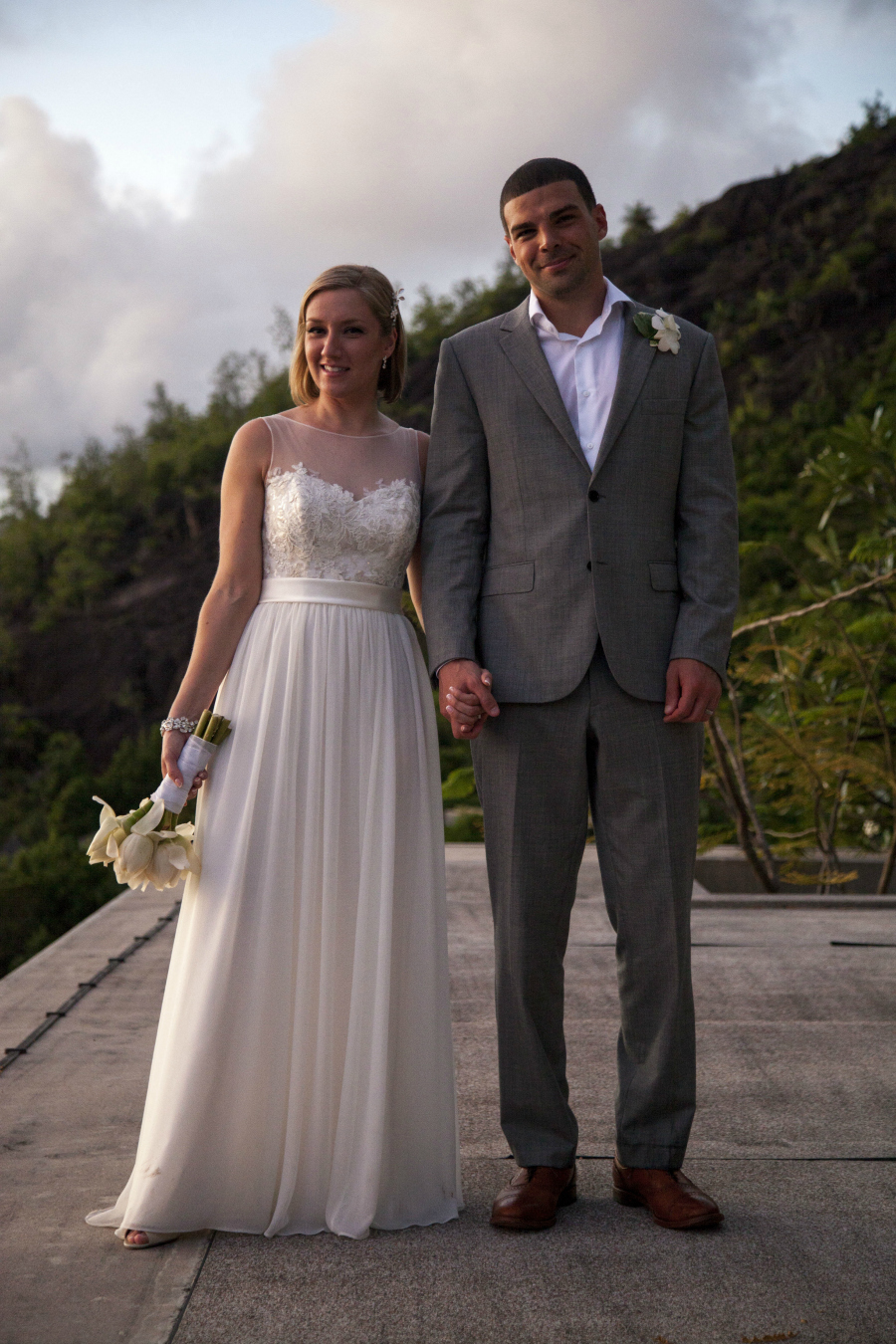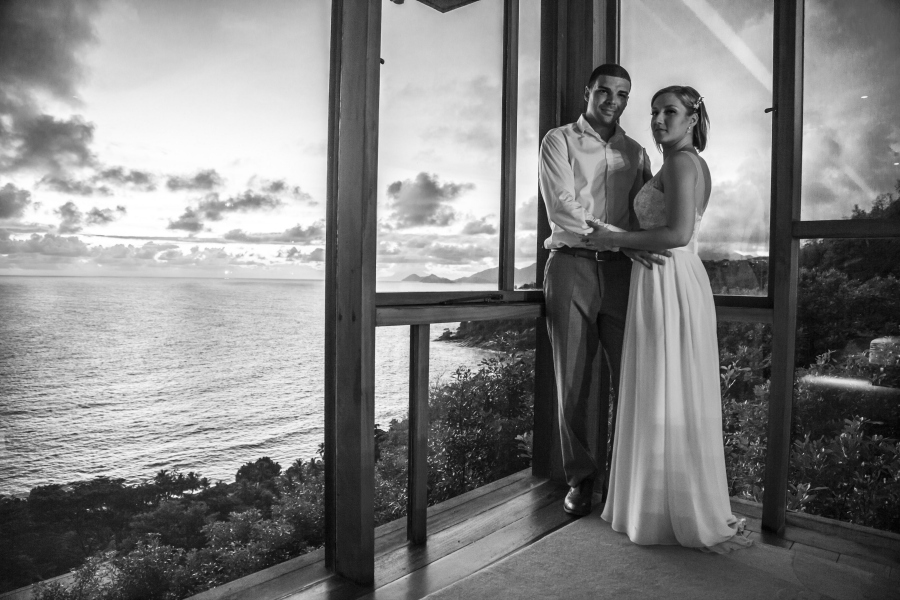 How did you share your news? Did you host a post-elopement party?
We made sure to spread the news about our decision to elope before we left. There were many long discussions with our parents before we decided to cancel our local wedding. It was difficult but eventually they supported our decision. We'll be celebrating with our family and close friends this summer with a backyard BBQ at our home.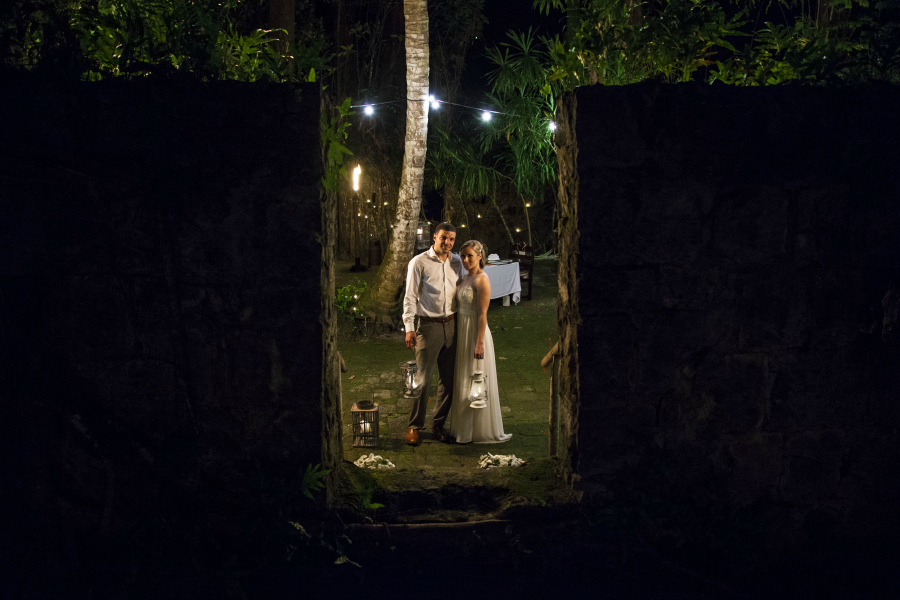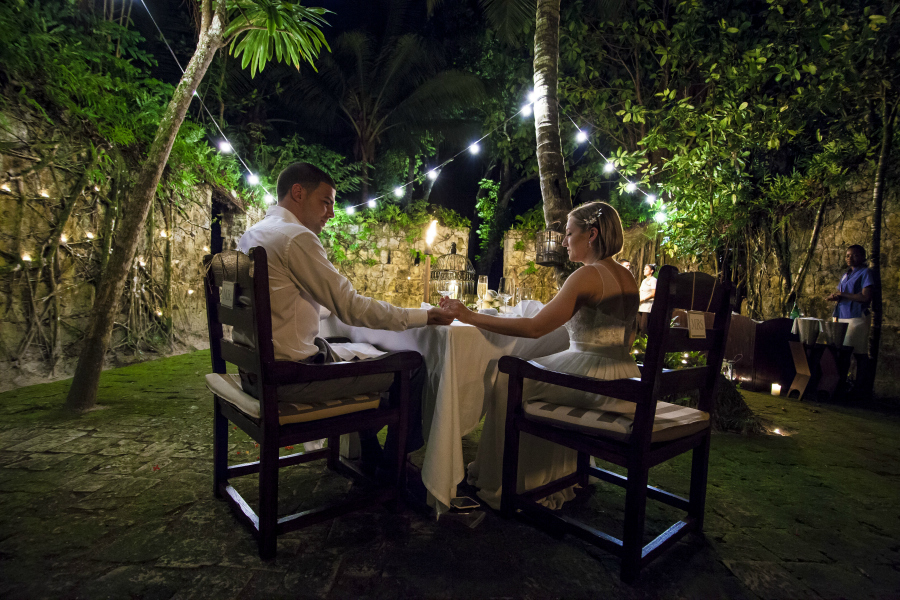 What advice do you have for couples who are considering an elopement?
Go for it, have fun and enjoy! It's one of the best decisions we've made together and we wouldn't change one thing about it. The only thing we regret was not making the decision sooner and losing our deposit at the local venue we cancelled.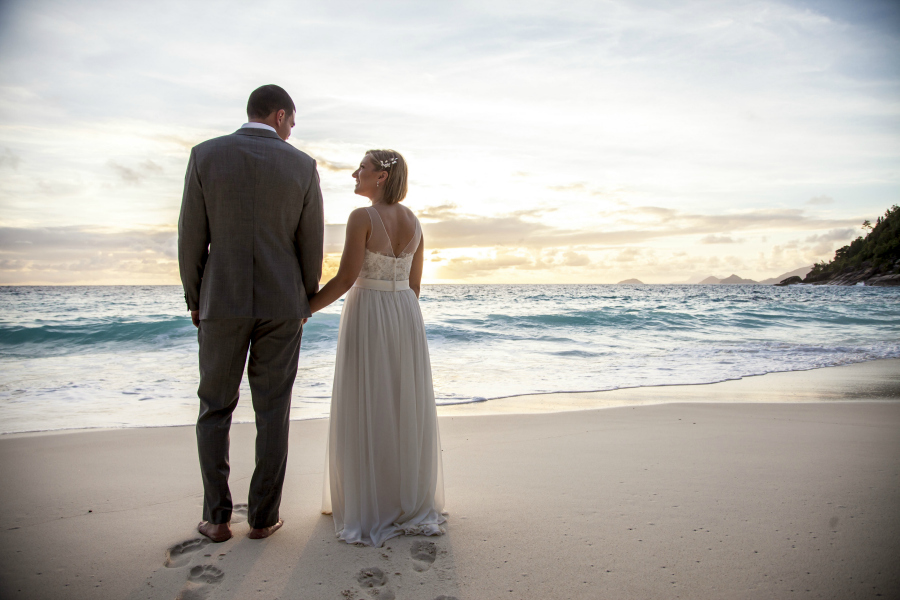 Ready to plan your elopement abroad? We've got you covered with a FREE detailed Destination Elopement Checklist, just subscribe to claim this and several other destination elopement planning tools.
Four Seasons Resort Seychelles