My Wedding in Lisbon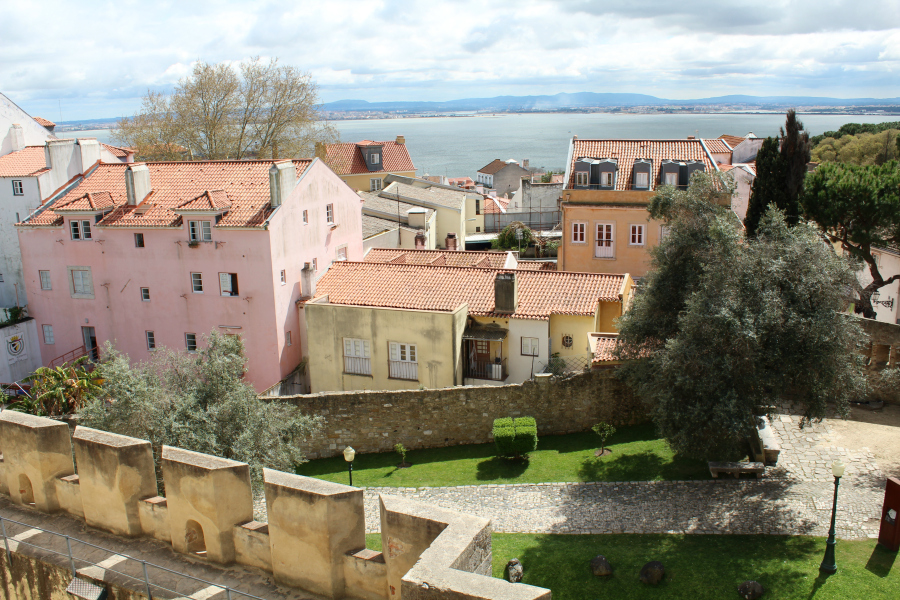 Lisbon is a city bursting with color, culture and loads of character. With plenty of opportunities for both exploration and relaxation it's an ideal destination for an elopement.
Part adventure and part extravagance, this is what my wedding day would look like if I were eloping to Lisbon…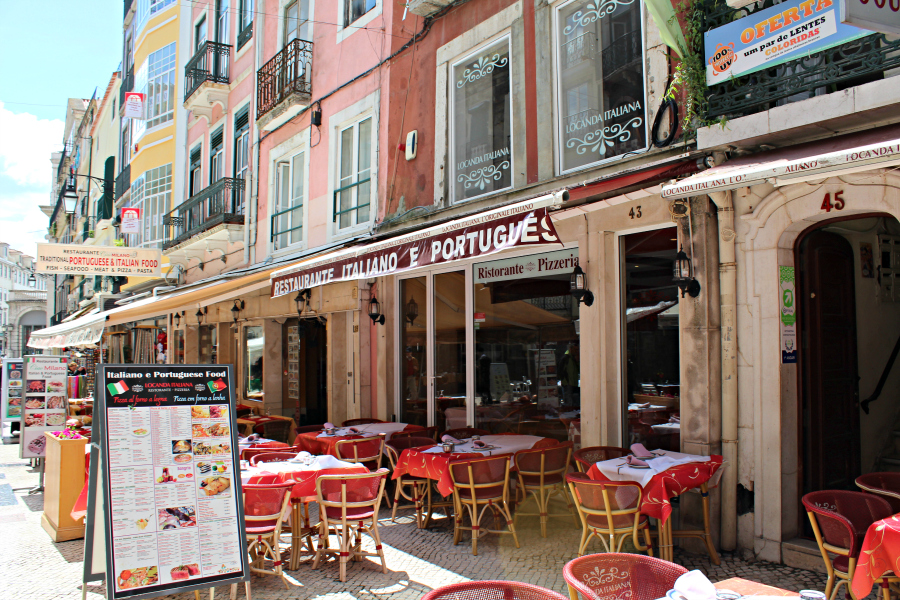 Breakfast: Café Nicola
For a light and lively breakfast on the morning of my wedding, I'd head to Café Nicola on the west side of Praça do Rossio. The storybook façade and picturesque patio outside Café Nicola has made it one of the most popular places for a coffee and pastry in Lisbon for almost one hundred years. Breakfast alfresco is perfect for people watching. Outdoor seating overlooks the bustling Rossio Square, where many a street performer and musician can be enjoyed alongside the ambience of café society. Indoor seating, with the locals, provides eye-candy as well: art deco fixtures, plenty of polished marble and artwork with an ode to Portuguese poet Bocage. I would start my big day off right with traditional Portuguese pasteis de nata (custard tartlets), fresh melon and bacon, and a strong Nicola house blend.
Outing: São Jorge Castle
Next, a couple of quintessential Lisbon experiences: a romantic ride on the rickety number 28 tram and an amble through the castle grounds. I'd take the bright yellow tram 28 atop Lisbon's highest hill to spend my morning at São Jorge Castle. The park includes a beautiful 11th century fortress, ruins of the royal palace, an archaeological site and a camera obscura, with detailed 360 degree views of the city in real time. This Lisbon landmark is an ideal place to begin a trip and get acquainted with the capital city because you get a great lay of the land. Stroll the lush gardens, walk the ruined ramparts, and take in the sweeping views of the city. It sounds endlessly romantic to spend a few hours holding hands and sipping a favorite variety of local wine.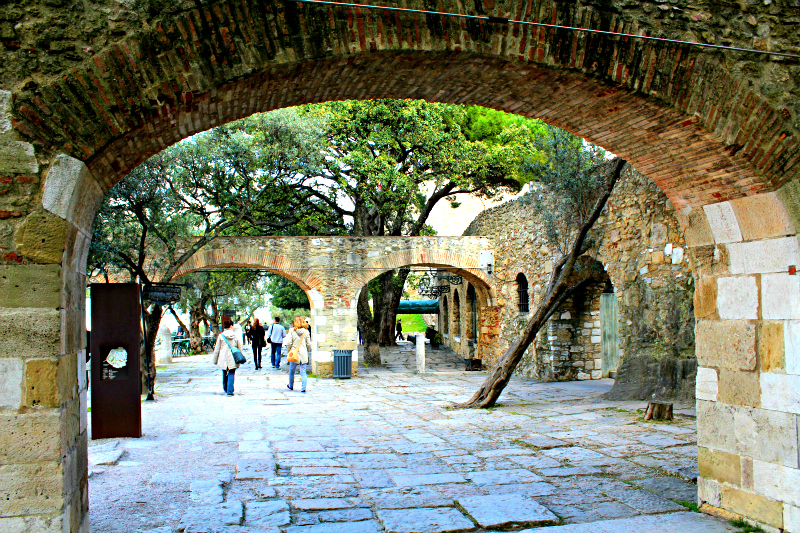 Lunch: Belcanto
For the ultimate luxury lunch, I'd book a table at the upscale Belcanto in Lisbon's posh Chiado neighborhood. This upscale, cutting-edge restaurant serves creative Portuguese cuisine prepared by a Michelin-star chef, José Avillez. Since the menu here has received global acclaim, enjoying a little of everything with the tasting menu is the way to go (a splurge well worth your wedding day funds). Belcanto sits across from the Lisbon opera house and the decor is sophisticated but cozy: read lots of wood paneling and leather seating. A large glass wall adorns the front of the kitchen putting the haute cuisine cooking on display for visiting foodies. It is easier to get in here for lunch than for a later seating but a reservation is still highly recommended.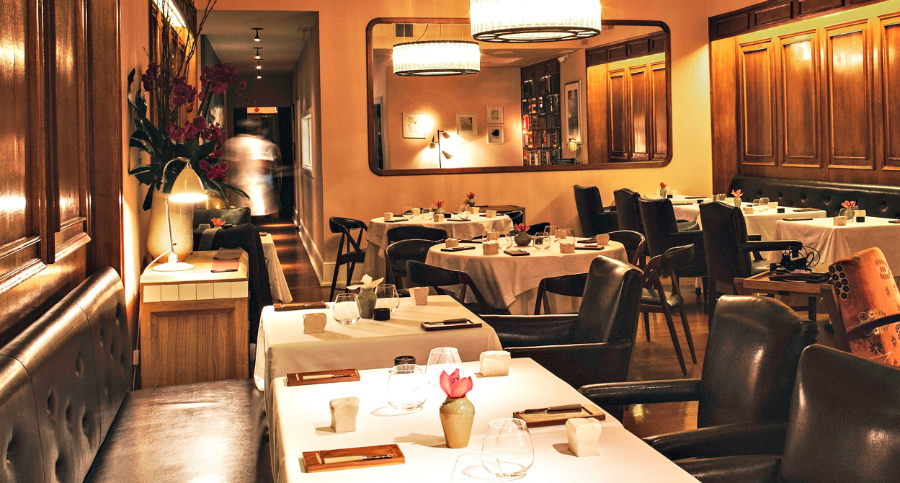 Dress: MIGNON  
My ideal wedding dress for this elopement is minimal yet striking, with a sleek silhouette. Lightweight and easy to care for, you'd never expect that a jersey fabric would be used in such a stunning gown. This wedding dress has a dazzling vintage quality reminiscent of Lisbon and yet it's practical and packable.  
Dress by MIGNON, Open-Back Embellished Gown in White, Sold by Neiman-Marcus. Embellished jersey gown, round neckline, cutout at center, sleeveless, fitted bodice with slim skirt.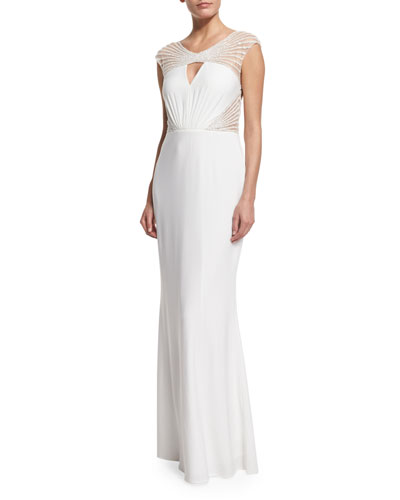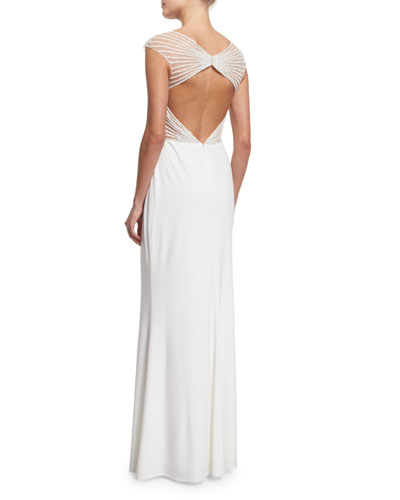 Accessory: Brincos à Raínha
Brincos à Raínha are the original Portuguese Queen earrings, still worn by many brides in Northern Portugal and passed down from generation to generation. Lacy, and filigreed, these are very traditional here with a history dating back to the eighteenth century. I love jewelry with a great story and these would surely be a keepsake to remember. The craftsmanship and quality in Lisbon is also outstanding and Portuguese gold has the highest purity in the EU, 19.2 carats (80% purity). There are a number of Portuguese merchants selling silver and gold plated Brincos à Raínha online or they can be purchased in Lisbon at stores like the charming Joalharia do Carmo in the Chiado neighborhood.


Flowers: Red Roses and Carnations
For my elopement in Lisbon I'd carry a small bouquet of red roses and carnations; simple and classic but vibrant. Red carnations have been a traditional Portuguese symbol since the Carnation Revolution and the bright hue will look fabulous in photographs. Flowers in varied shades of red will stand out against the city's blue tile maps, yellow and green trams and black and white tile streets.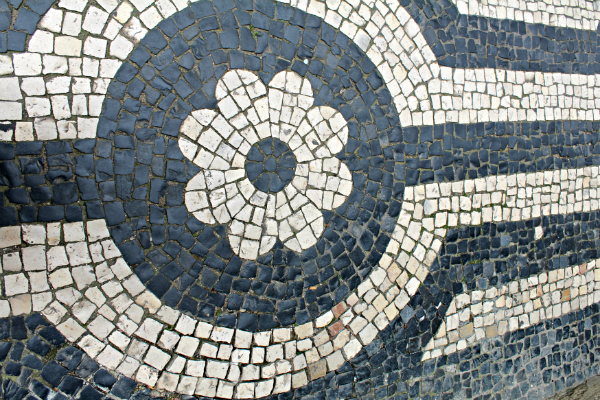 Ceremony Location: Miradouro or Monserrate 
In the Lisbon city center, I'd want my wedding ceremony on one of the many prominent miradouros (vantage points) that deliver spectacular river and city views. Perhaps the most romantic of them all, with the castle situated on the opposite hill, is the Miradouro de São Pedro de Alcantara. This miradouro has a sprawling garden, beautiful fountain and sculptural works, and of course a panoramic lookout over the city's red rooftops. There is also a beautiful map made of Portuguese ceramic tiles to mark distinctive landmarks, the perfect spot for a photo of newly ringed hands after the wedding ceremony. As an added bonus, across the street is the Port Wine Institute, just in case a celebratory drink is needed before heading out on the town for photos. As a close second, just outside of Lisbon, the town of Sintra is home to the beautiful Monserrate Palace and chapel ruins. This idyllic township became Europe's first hub of Romantic architecture and is classified as a UNESCO World Heritage Site. While many a wedding takes place inside the actual palace, I'd be hard pressed to pass up exchanging vows outdoors in the beautiful botanic gardens or in the fairytale ruins on the grounds.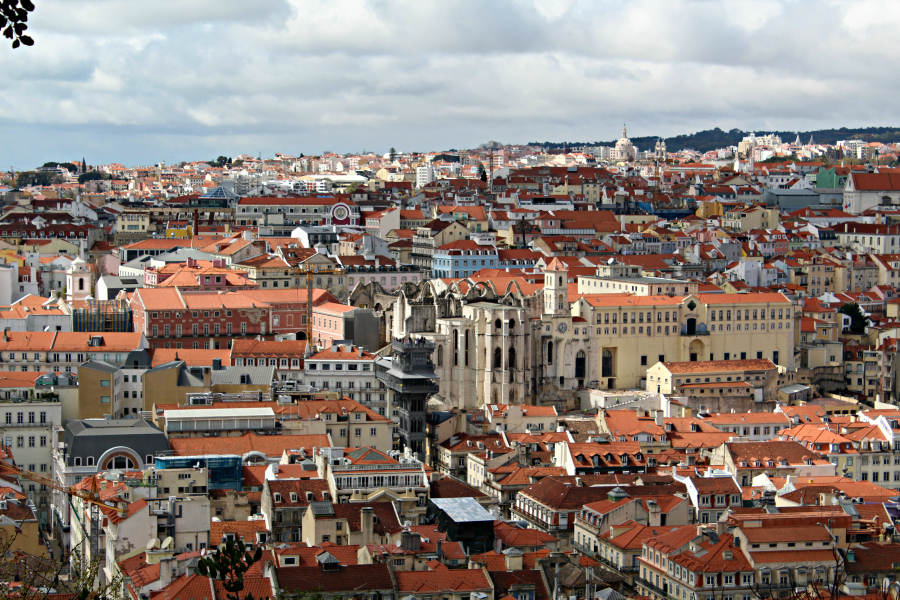 Soundtrack: Fado and Portuguese Guitar             
When in Lisbon… it has to be Fado or traditional Portuguese guitar. A musical styling that is seductive and soulful, Fado is a genre tracing back to the 1800s and is considered the national music of Portugal. The song Fado Alado by Ana Moura is a beautiful example, but my favorite has to be Elizete Cardoso signing Manhã de Carnaval. For an instrumental melody, José Nunes' song Dona Filipa is my instrumental pick, a light and airy song reminiscent of the fresh laundry and sun-soaked streets of Lisbon.
Toast: Vinho Verde Espumante                                
A celebratory post wedding toast in Lisbon calls for a regional sparkling Vinho Verde Espumante. Try Casa do Carregal Vinho Verde Espumante Bruto Método Classico Reserva Rosado.
Cheers in Portuguese: Saúde.
Wedding Photos: Historic Trams, Tiles, Rua Augusta Arch, and Rossio Square      
Part of the allure of eloping abroad is the amazing and unique wedding photos you can bring home of your special day. For my Lisbon elopement, I'd want to get as many iconic Lisbon shots as time before dinner permits. Here are four that are top my list:
In front of, and maybe onboard, one of the many old-time trams.
With one of the many blue tile neighborhood maps (see opportunity for ring photo in ceremony section above).
Walking down the Praça do Comércio to the grand Rua Augusta Arch.
Standing on the famous Portuguese pavement in front of the fountain in Rossio Square (Praça de D. Pedro IV)- might as well stop by Cafe A Ginjinha and get a shot of the legendary sour cherry liqueur to celebrate!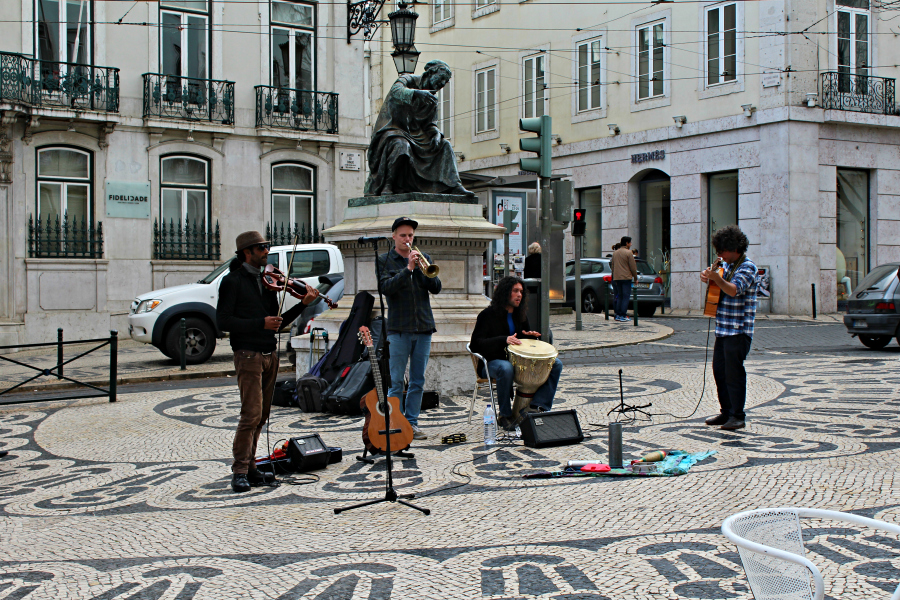 Dinner: A Travessa
For dinner, I'd make a special request for the most romantic table for two in town: the cloistered courtyard at A Travessa. A Travessa is a Lisbon institution, housed in a former monastery. The ambiance is stunning and elegant; whitewashed walls, exposed brick ceilings, fresh floral arrangements and luxurious tableware. Who wouldn't like to be greeted on the terrace with champagne and port wine, after all- just married! In the cool winter months, request to be seated near the enormous fireplace in the main room to add some coziness and sparkle to your dining experience. As expected of a restaurant in Lisbon, there's an abundant selection of seafood and fresh fish. I'd enjoy the tasting menu with a unique 8-course round of hors d'oeuvres and various internationally-infused Portuguese dishes. The wine list here includes many of Portugal's finest, including a large selection of Douro Valley reds. Be warned that they are closed on Sundays and since it's one of the most popular restaurants in town, plan to make a reservation in advance (this can be done online by visiting the restaurant's website).
Honeymoon Suite: Sheraton Lisboa Hotel & Spa
On my wedding night, I'd head back to the five-star Sheraton Lisboa. One of the tallest buildings in the city, this sleek and sophisticated hotel has fabulous views of the cityscape, Tagus River and the Abril Bridge. It's cattycorner from a metro station, and only a few minutes walk to Rossio Square, making it an ideal home base for exploring the city. I earned elite SPG status (the Starwood Hotel rewards program) before our trip, so upon arrival our basic room booking was upgraded to a posh executive suite with a living room, two bathrooms and an amazing view. The décor was minimal and modern, and the bathroom in the bedroom was definitely steamy (both literally and figuratively) designed with glass walls and a double shower. Our room upgrade also included access to the Club Lounge, a luxurious amenity of breakfast, snacks, drinks, and a happy hour all free of charge. After a long international flight it was luxurious to enjoy a few Super Bock beers and bacon wrapped dates at a window table while hashing out our Lisbon itinerary. My Lisbon elopement would include sleeping in the day after the excitement and devouring a late breakfast in the comfortable and quiet Club Lounge. Ok, maybe even breakfast in bed, if any occasion calls for indulgence it it's a honeymoon.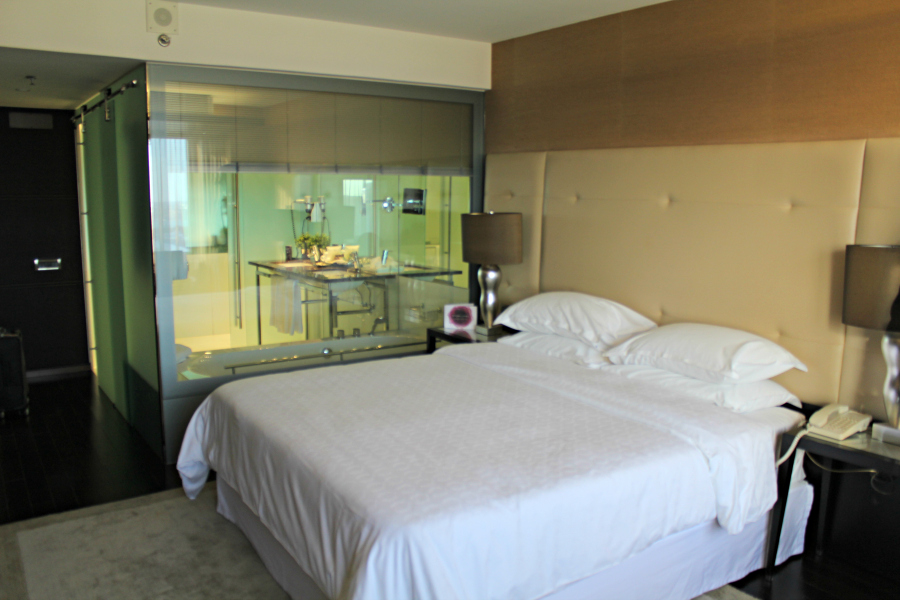 Souvenir:
The quintessential souvenir from Lisbon has to be a lovely blue and white azulejos. I picked out a colorful ceramic tile from a market in Alfama. My azulejo, like all of my souvenirs, has become a beautiful Christmas ornament for our tree.
Did You Know:  
Haven't set a date for your Lisbon elopement? Portuguese superstition holds that it is good luck to marry on the day of the week your partner was born, or on their birthday.             
What Do You Think?
There you have it- all the deets for my wedding day if I eloped to Lisbon. Sounds absolutely dreamlike to me, and I bet the wedding album for this one would be spectacular! I have such fond memories of my trip to Lisbon, I bet it'd be an incredible place to tie the knot. I would love to hear if anyone arranges this wedding, or plans another Lisbon elopement- leave a comment below or send me an email.
To see these and other great Lisbon elopement ideas check out my Lisbon Elopement Pinterest board.
Loving Lisbon? Find out how to get married in Lisbon, read Elope to Lisbon

If you are planning a trip to Lisbon, check out my Lisbon Travel Guide
Ready to plan your elopement abroad?
We've got you covered with a FREE detailed Destination Elopement Checklist, just subscribe to claim this and several other destination elopement planning tools.
Sheraton Lisboa Hotel & Spa
São Jorge Castle
Alfama
Rossio Square
Arco Triunfal da Rua Agusta
Cafe A Ginjinha
Jerónimos Monastery
Padrao dos Descobrimentos
25 de Abril Bridge
Torre de Belem
Pasteis De Belém
Cervejaria Ramiro
O Faia Casa de Fados