Lisbon Travel Guide

Portugal occupies the bulk of the west coast of the Iberian Peninsula and Lisboa is it's sunny seaside capital city. There are so many things to see, do, eat, drink and experience in Lisbon that it's tough to boil down, but here are a few favorites from my trip along with some tips and tricks. Enjoy!
Must See and Do in Lisbon
1. Tram 28 and São Jorge Castle
Two quintessential Lisbon experiences: a ride on the historic number 28 tram and an amble through the castle grounds. Take the bright yellow tram 28 atop Lisbon's highest hill to spend a few hours at São Jorge Castle. The park includes a beautiful 11th century fortress, ruins of the royal palace, an archaeological site and a camera obscura, with detailed 360 degree views of the city in real time. This Lisbon landmark is an ideal place to begin your trip and get acquainted with the capital city because you get a great lay of the land. Stroll the lush gardens, walk the ruined ramparts, and take in the sweeping views of the city all while sipping your favorite variety of local wine.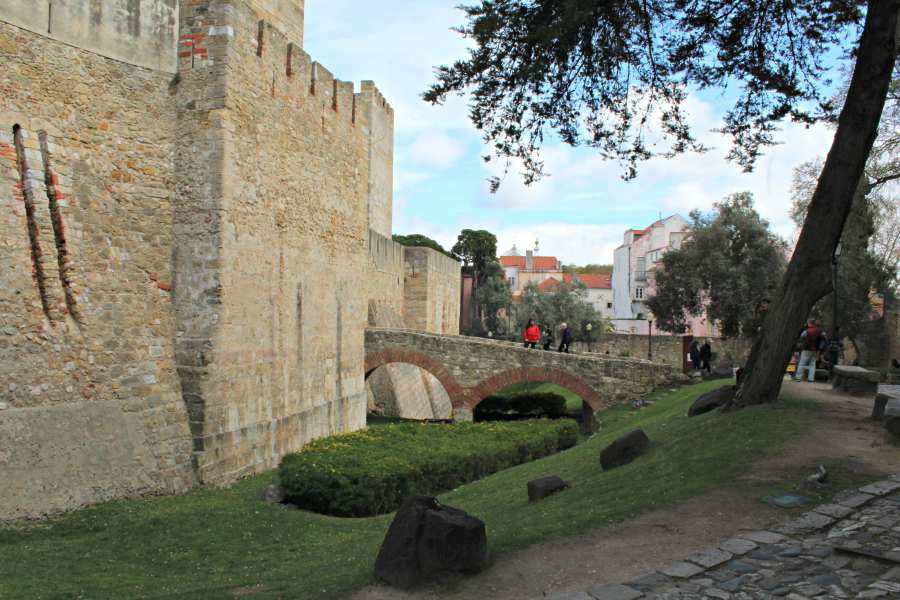 2. Alfama
Lisbon's historic quarter is a maze of Moorish and medieval cobblestone becos (alleys) and largos (squares) between São Jorge Castle and the Tejo river. The oldest district in Lisbon is best discovered by wandering the narrow streets between the whitewashed houses where locals are dry their laundry. Pop into a shop or market here to find yourself a lovely blue and white azulejo tile as a souvenir. You might also meander to the two miradouros (vantage points) of Portas do Sol and Graça while exploring this district.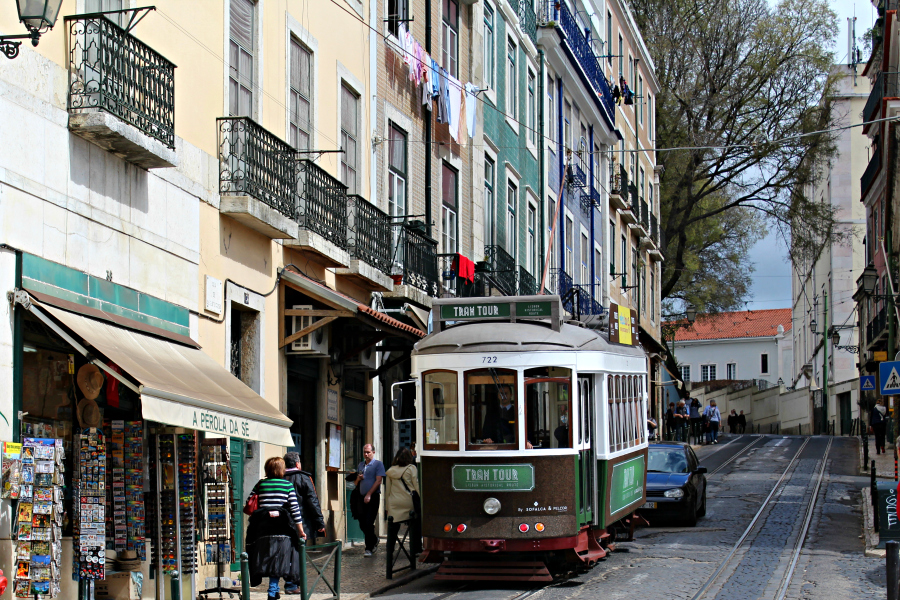 3. Praco de D. Pedro IV- Rossio Square
Take a walk on the famous calcada portuguesa, or Portuguese pavement, in one of the main meeting spots in Lisbon since the middle ages. Popularly called Rossio Square, the official name of the area is actually Praco de D. Pedro IV and a statue of Pedro IV can be found at the center. While you're in the square make sure to check out Cafe A Ginjinha to get a shot of the legendary sour cherry liqueur. Or for meal with a view, do some people watching on the patio of Café Nicola, a square staple since 1929.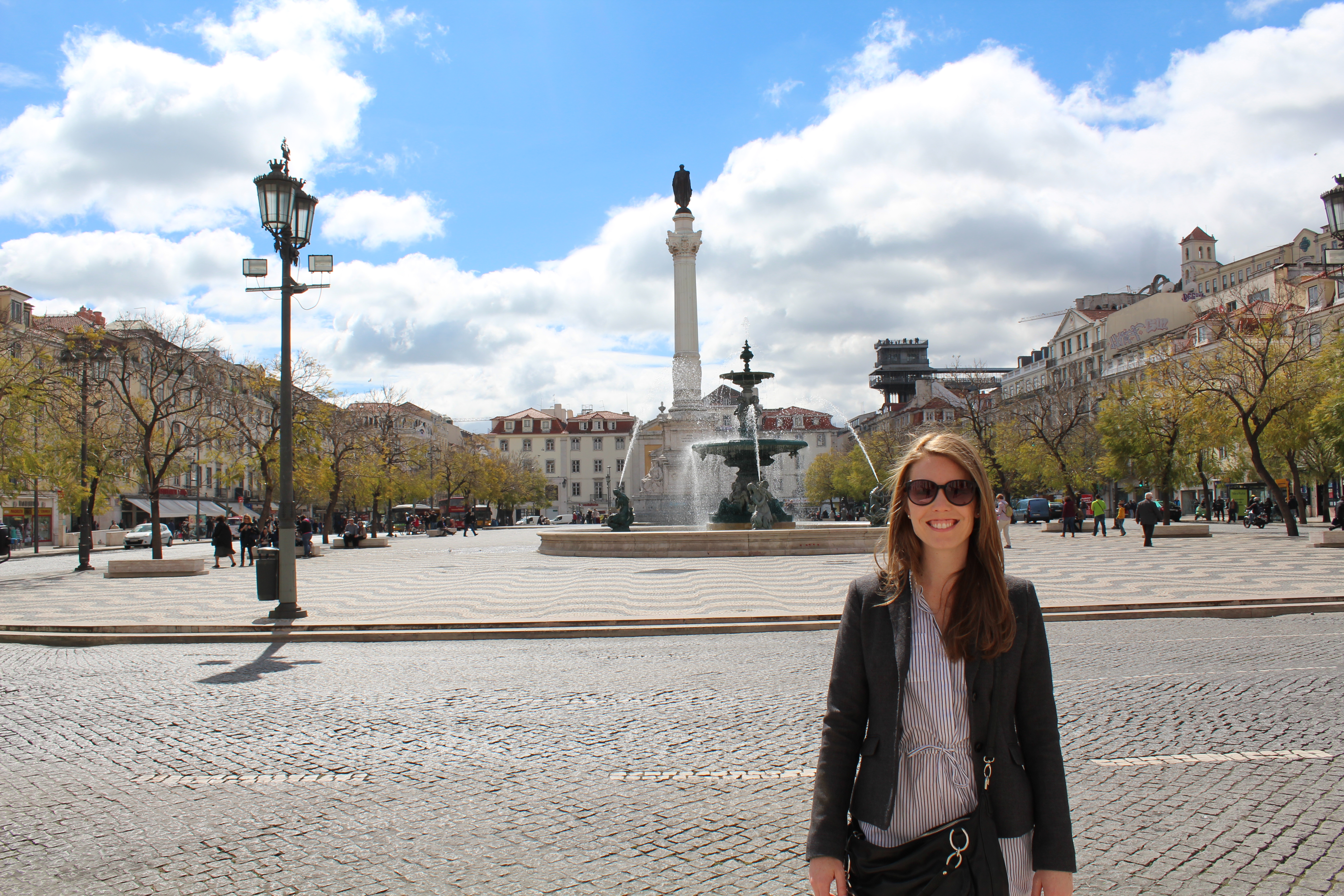 4. Arco Triunfal da Rua Agusta
Lisbon's triumphal arch was built after the devastating 1755 earthquake to commemorate the city's reconstruction. Located in the middle of the city center, a ride to the terrace at the top of the arch offers fabulous views out to the river and over the waterfront square. In the warmer months the walk through Praça do Comércio to the arch is bustling with the energy of street performers, musicians, shoppers, tourists and locals alike.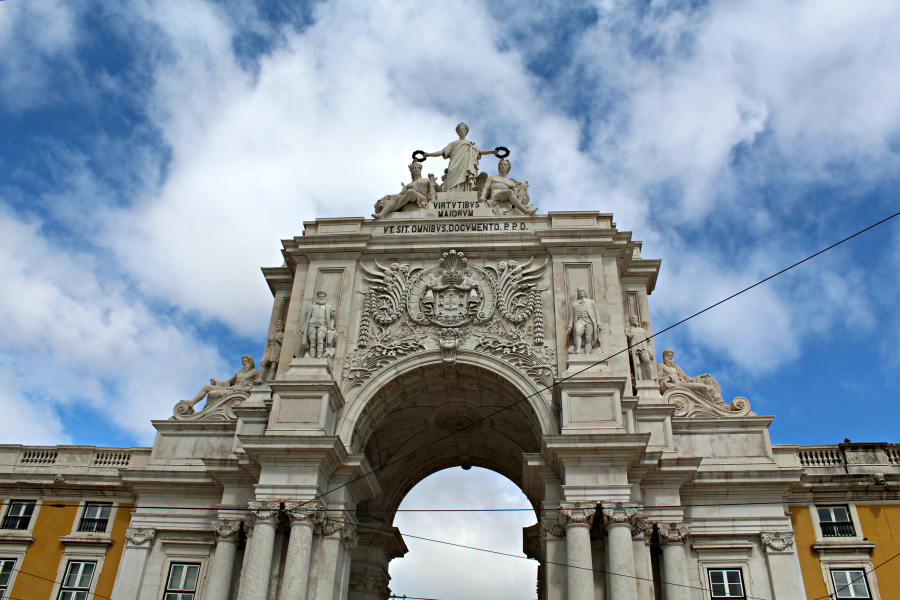 5. Belem
A quick fifteen minute tram ride out of downtown Lisbon on the 15E will get you over to the scenic Belem district on the Tagus River. Plan at least a half day on this side of town as it has quite a lot to offer: Lisbon's two UNESCO World Heritage Sites, the Monument to the Discoveries, the National Palace of Belém, the Coach Museum, Botanical Gardens and the famous Pastéis de Belém. Belem is also home the Berardo Museum which houses nearly 2000 pieces of contemporary art and has free admission in the Belém Cultural Centre or CCB. To start your day in Belem hop off the tram at the Belém-Jerónimos stop and head right into the ornate Jeronimos Monastery. A UNESCO World Heritage Site, the monastery is not to be missed for its beauty and history (it houses the tomb of Vasco de Gama).
Next door you'll find the Museu Nacional dos Coches, one of the most popular museums in the city with a vast collection of historical carriages. Like many sites in Lisbon, the monastery and the coach museum are closed on Mondays and it's also best to go early in the morning to avoid long lines. Next head across the street through the Jardim da Praça do Império, an eye catching plaza with meticulously maintained gardens and beautiful water features, and continued over to the soaring Padrao dos Descobrimentos. Also called the Monument of the Discoveries, it's a tribute to Portugal's great explorers with a small museum and observation deck. You'll have a great view from here of Vasco de Gama Bridge and 25 de Abril Bridge– so named for Lisbon's Carnation Revolution and designed in the likeness of the Golden Gate Bridge in San Francisco.
Finally walk down the boardwalk to the Torre de Belem, maybe the most distinctive monument of Lisbon and a symbol of its maritime history. The tower was commissioned by King Joao II to function as the ceremonial gateway to the city. Finally, as the birthplace of the original Pastel de Nata (an authentic Portuguese custard tartlet), no trip to Belem would be complete without visiting Pasteis De Belém (see Must Eat and Drink below).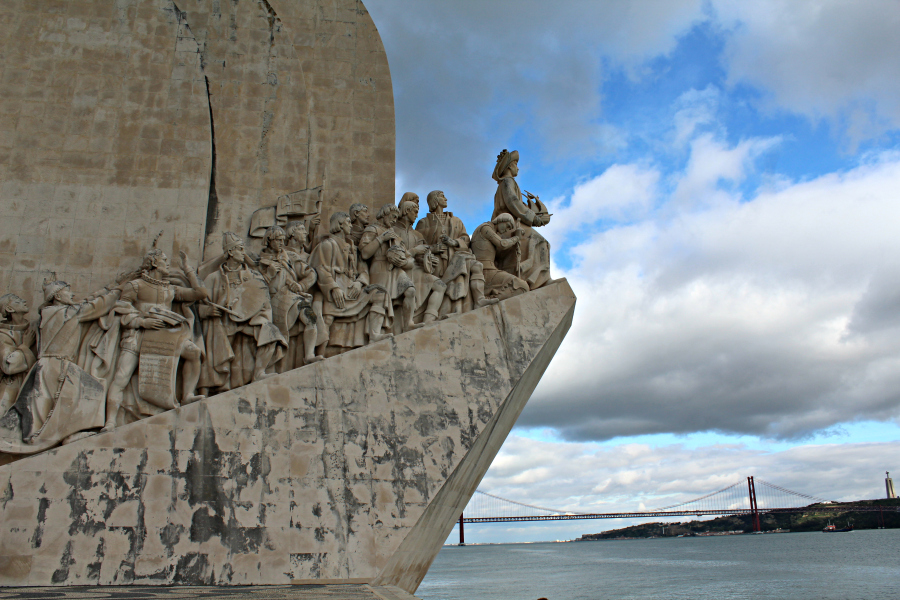 Must Eat and Drink in Lisbon
1. WINE & SPIRITS
Wine is big time. Entire blogs, books and tours are dedicated to the native grapes and diversity of Portugese wine but two varieties not to be missed on your trip are Port Wine and Vinoh Verde. Port wine is produced exclusively in the Douro Valley in Porto (classified a UNESCO World Heritage Site). It's usually a sweet, red wine, often found on the dessert wine menu. Vinoh Verde, literally green wine, actually translates as young wine and comes in all colors: white, rose or red. The youthful grapes make it a little tart, a tasty complement to shellfish. Another refreshment original to the country is Ginjinha, a Portuguese liqueur made with the sour Morello cherry. Ginjinha is usually served in a shot with a piece of the fruit in the bottom. Café A Ginjinha in Rossio square is the place to try this drink, a tiny bar with a long queue of locals and tourists alike. Plan to get your shot to go since the bar only seats about three.
2. SEAFOOD
As a coastal capital, Lisbon doesn't disappoint with its seafood. If you've watched your Rick Steves or Andrew Zimmerman you'll know that this is the place to try barnacles. Percebes, as they're called on the menu, are not the prettiest thing on a plate but are worth a try for their uniqueness (just let the waiters at Cervejaria Ramiro show you how to go about eating them, it's not immediately obvious). One of Portugal's most traditional seafood dishes is Bacalhau. It consists of codfish preserved in salt and dried under the Mediterranean sun. It's said that there are more ways to serve bacalhau than there are days in the year.
Our favorite version was served with a side dish of Fado at O Faia Casa de Fados. Not to be missed on your visit, Fado is a beautiful, melancholic music genre dating back to the 1800s and is considered the national music of Portugal. O Faia is an intimate and elegant restaurant to enjoy the soulful signing and Portuguese guitar (plus you can book a reservation online by emailing them). We were lucky enough to get a front row seat for Lenita Gentil and ended up buying a signed copy of her cd (fabulous music for cooking!).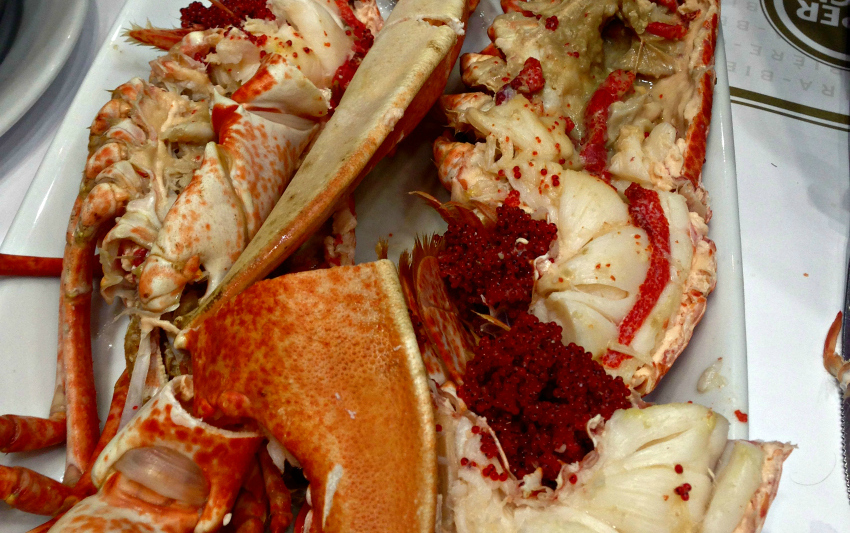 3. PASTEL DE NATA
A pastel de nata is a popular Portuguese custard tartlet. Although this treat can be found in just about every café and pastry shop in Lisbon, nothing beats the original at Pasteis de Belém. The recipe here, unchanged and developed by the monastery, is heavily guarded and allegedly known to only three staff. The restaurant itself is no secret though and it often has a crowd outside waiting. Although the line for pick-up may look intimidating, there are two counters and it moves along quickly. If you are so bold as to walk past the masses and into the establishment, you can also be seated to enjoy your custard and coffee. We followed a local in who weaved her way through the maze of seating sections to an indoor line where we were seated fairly quickly. This is the perfect snack stop to add on to your tour of the sites in Belem.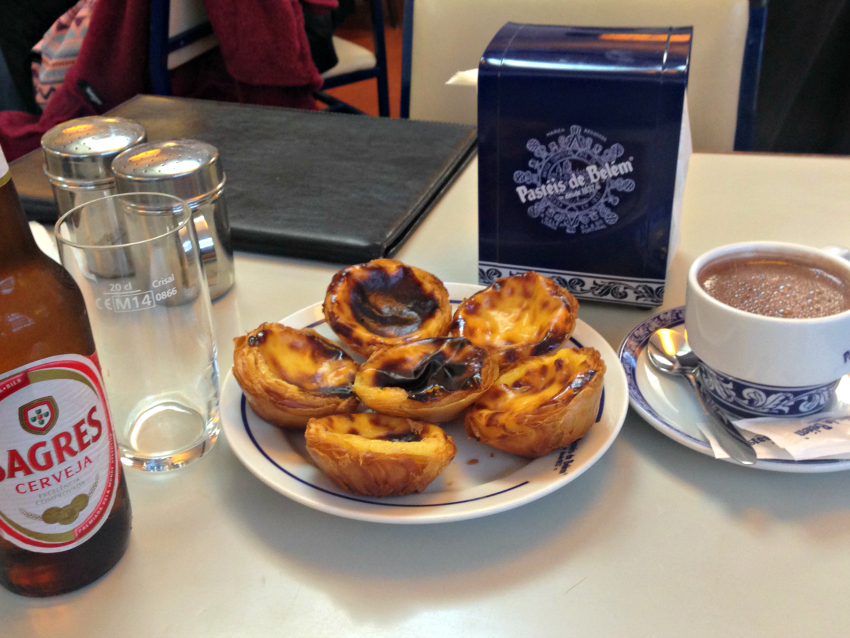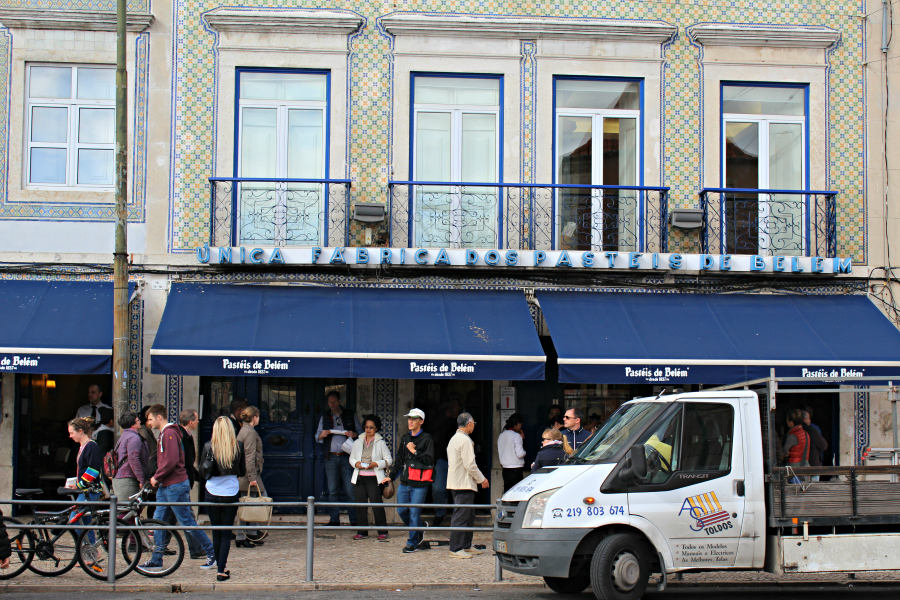 Must Stay in Lisbon:
One of the tallest buildings in the city, this sleek and sophisticated hotel has fabulous views of the cityscape, Tagus River and the Abril Bridge. It's cattycorner from a metro station, and only a few minutes walk to Rossio Square, making it an ideal home base for exploring the city. I earned elite SPG status (the Starwood Hotel rewards program) before our trip, so upon arrival our basic room booking was upgraded to a posh executive suite with a living room, two bathrooms and an amazing view.
The décor was minimal and modern, and the bathroom in the bedroom was definitely steamy (both literally and figuratively) designed with glass walls and a double shower. Our room upgrade also included access to the Club Lounge, a luxurious amenity of breakfast, snacks, drinks, and a happy hour all free of charge. After a long international flight it was luxurious to enjoy a few Super Bock beers, bacon wrapped dates, and local cheeses and nuts at a window table while hashing out our Lisbon itinerary.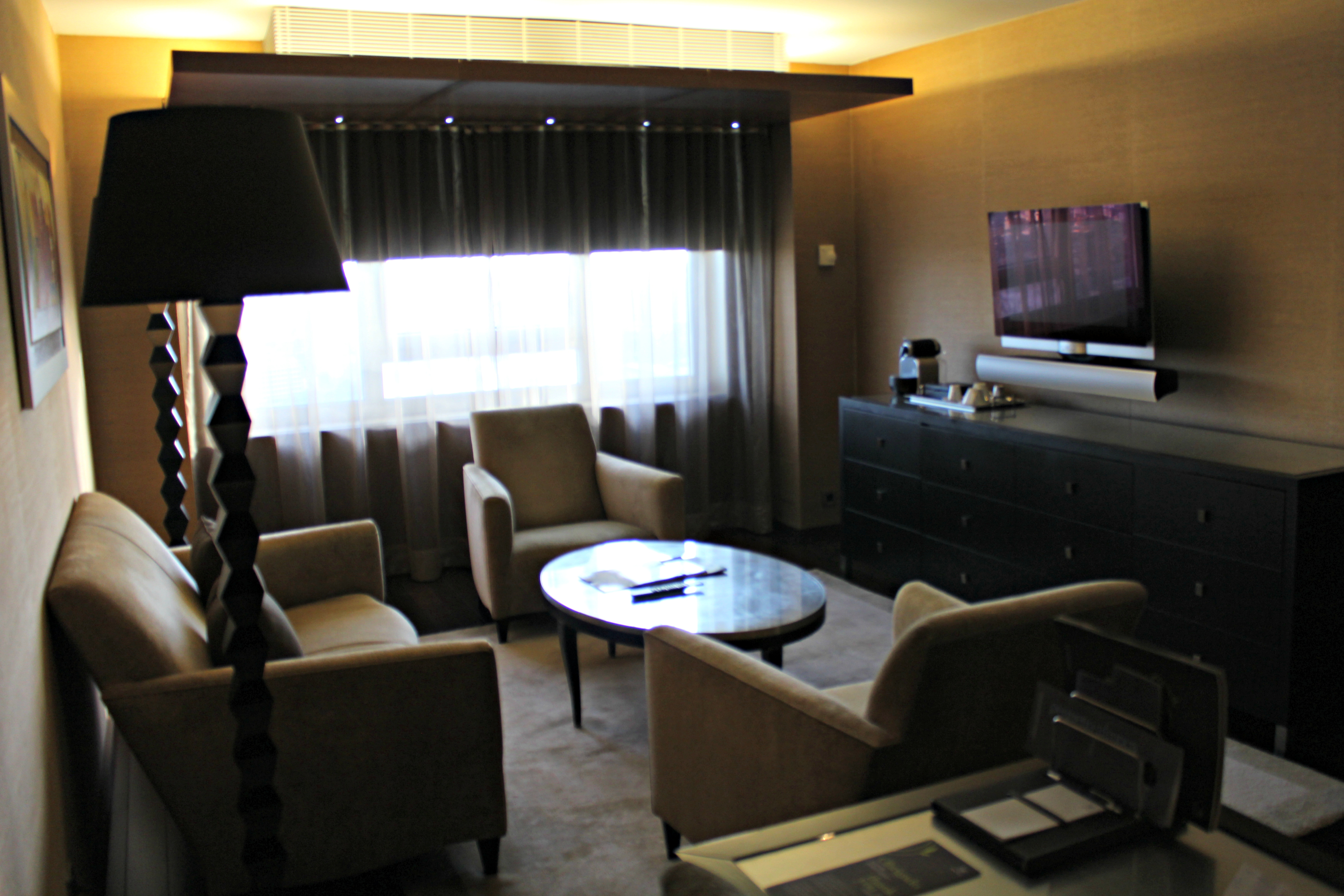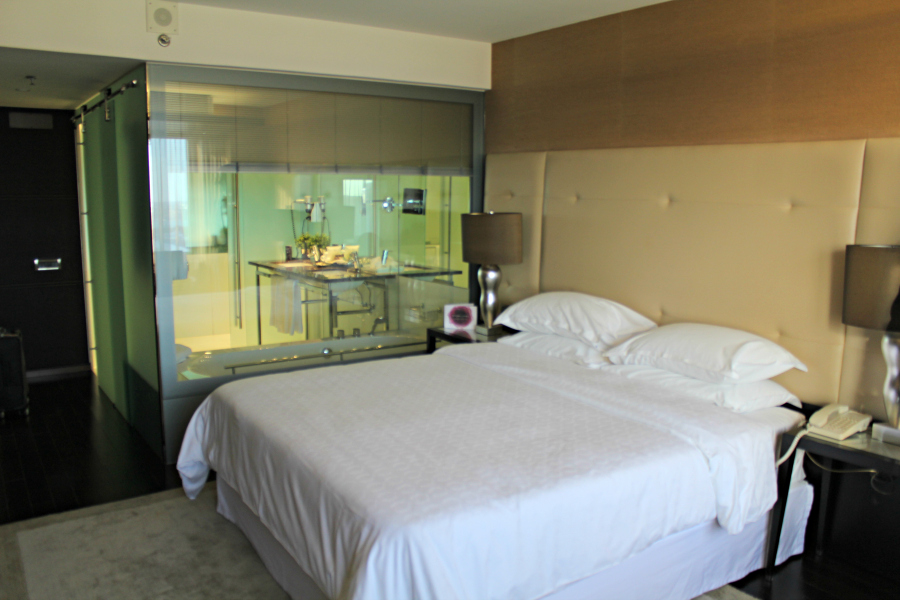 Tips and Tricks
The Lisboa Card will afford you a discounted price of entry for over 80 attractions, and free admission to the Belem Tower and Jeronimos Monastery. It also provides unlimited free public transportation including historic trams and funiculars for the duration of the card you select. You can purchase the card online or in person at the Lisboa Welcome Center or Lisboa Airport.

Tipping is discretionary here but good service may warrant 10% of your bill. There are typically no service charges included but if your bill includes one than there is no need to tip anything.
Walking is a fulfilling way to explore most of Lisbon so comfortable footwear is an absolute must with the many hills and cobblestone streets.
Rainy season in Lisbon is roughly November through March. This is considered off-season for travel and is generally less expensive and much less crowded.
Taxis in Lisbon are regulated and fairly affordable. Drivers don't necessarily expect tips, but it's more common for them to be tipped by tourists. Reward a good driver by rounding up to the nearest €5
As with any metropolis, you should be vigilant with regard to pickpockets, especially on crowded trams and in touristy areas. Men are encouraged to wear a money belt or keep their wallet in their front pocket. Women may wish to wear a cross body purse pulled to the front. Only carry with you what you really need for the day and leave your valuables in a safe at your hotel.


Lesson in Portuguese
Greeting: Bom Dia- good morning, Boa Tarde- good afternoon or Boa Noite- good evening
Thank You: Women say Obrigada and men say Obrigado
Further Planning

Hopefully the suggestions here wet your whistle for the sights and sounds of Lisbon. For further trip planning, here are the resources I most enjoyed…
Videos: Rick Steves' Europe. Spain & Portugal Like most of my planning resources I snagged this from my local library, but it's also fairly affordable to purchase online by the episode. For this trip you'd only need to watch episode 5- Lisbon and the Algarve, 26 minutes. Passport to Europe with Samantha Brown: Seven Fabulous Cities Again, I reserved this at the library but you can purchase by episode for a few dollars if it's easier. Episode 10 is the tour of Lisbon, 22 minutes.
Books: Top 10 Lisbon (Eyewitness Top 10 Travel Guide) I simply love these guides for their succinctness and size. When I feel like I need a more in depth history or overview for a city I might go for a Frommer's or Fodor's guide, but when I want to take a book with me on a trip it's always Top 10. They fit perfectly in my purse and aren't too heavy, they also get right to the highlights and the must-sees. Easy to pull out of my bag to read on a train or when taking a midday break from touring.
Podcasts: Rick Steves Portugal Podcasts Amateur Traveler Podcast, #448 Travel to Lisbon Loving podcasts! Is everyone already aware of this fabulous and free resource? I have an Iphone so the links I've added are for iTunes but Android users can go directly to Rick Steves' and the Amateur Traveler websites for more information on downloading the podcasts. I usually just download episodes right on my phone from the purple podcasts app and listen to them while I'm doing chores or sometimes while I'm on a flight to my destination.
Websites and Apps: TripAdvisor Best of Lisbon TripAdvisor iPhone and iPad app
So the first link is for the TripAdvisor website, which is valuable, but I actually use the TipAdvisor app on my phone for all of my travel planning. After downloading the app you can simply search by city and download all of the updated TripAdvisor information for that city. While it takes up storage space, downloads with maps and attractions are fabulous because you don't have to use your cellular data to view the information when you're abroad. The app also allows you to 'save' the specific hotels, restaurants, activities and landmarks that you are interested in for easy recall. Super helpful tool!
Well I hope this guide to Lisbon has inspired you, or informed your travel planning.
Have you been to Lisbon, or are you getting ready to go? I'd love to hear your hopes for or experiences of Portugal's capital city. Leave a comment below or shoot me an email- Contact Me
Want to know how to get married in Lisbon? Read Elope to Lisbon here, or if you want to know what my dream elopement in Lisbon would look like read My Wedding in Lisbon
Ready to plan your next trip abroad?
We've got you covered with a FREE Pre-Travel Tip List, just subscribe to find out what other steps you need to take before heading out of town.
Sheraton Lisboa Hotel & Spa
São Jorge Castle
Alfama
Rossio Square
Arco Triunfal da Rua Agusta
Cafe A Ginjinha
Jerónimos Monastery
Padrao dos Descobrimentos
25 de Abril Bridge
Torre de Belem
Pasteis De Belém
Cervejaria Ramiro
O Faia Casa de Fados